WizIQ partner training software makes it easy to deliver, manage and monitor business-to-business learning. Train partners anytime anywhere on any device from a single platform.
Create unlimited courses
Create unlimited courses for the consumption of contractors, supplier, and sales, marketing, franchise and channel partners.
Drive large-scale programs
Run multiple video courses and live classes simultaneously to train external audiences across the globe anytime, anywhere on any device.
Award certifications
Train and certify professionals to validate their expertise on your product, to help them implement your software to its full potential.
Drive growth and revenue
Turn a cost center into a profit center by charging for video content or live expert training and collect payments via built-in e-commerce gateway.
Scale-up fast
Scale your training operations across the globe within no time. Either top up your current subscription or upgrade it to a premium plan.
Integrate premium API
Integrate WizIQ with your LMS, CMS or website to deliver learning from your existing setup. Go for white-labeling to reinforce branding.
Why train your partner network?
Partner training is one of the most important organizational touch points in a B2B context. How your alliances demonstrate and explain your products to your customers is crucial to your business and brand. And this is why you need to design interventions to align their actions so that they ensure a consistent customer experience.
Training your alliances – franchisees, channel partners, suppliers, and distributors – brings both tangible and intangible results.
Ensure a branded experience across your partner and customer network
Add to your overall organizational value system
Generate revenue, if you strategize your partner training program.
Choosing the right partner training software
Partner training comes in many forms – onboarding, new product training, ongoing training, compliance training, and certifications. Also, your partners can be located across the globe and represent different organizations, which means you might need to impart learning in different formats – franchisee training, partner channel training, affiliate training, supplier training, contractor training.
For this, you need an all-in-one, robust solution that allows you to deliver training in a format and at the pace you want. Here's what you should look for in a partner training software system:
Ease of deployment: Ease of deployment is the key to success. A cloud-hosted platform is quick to be implemented and requires fewer
Full integration: It should have all the required capacities built-in, eliminating the need for configuring third-party piecemeal tools.
Data security: It must have all necessary security and authentication frameworks in place so that your data and learning materials are safe.
Support for live and self-paced learning: Ideally, a good software solution should come with built-in virtual classroom and course builder to support live, self-paced and blended training formats.
Advanced tests: Look whether or not it supports tests – audio, video, textual and fill-in-the-blanks, image recognition, You might need to test the attendees before awarding them with a certification.
Certifications: Certification is an important thing to consider when you look for extended enterprise training software. This is how your alliances demonstrate their expertise in your product.
Analytics: Insights into attendee performance will help measure the effectiveness of your learning initiative.
Ease of scale: How easily and speedily you can scale your training operations is an important consideration when looking for online training software.
Ecommerce enablement: E-commerce-enabled extended enterprise training software will allow you to collect payments securely if you plan to turn training into a profit center.
White-labeling: White-labeling will allow you to create branded learning experience. However, you may or may not choose to brand your learning portal.
API: An ideal training platform should give you the flexibility to impart training from your existing system. Make sure it plays well with your LMS, CMS or website.
Why WizIQ partner training software?
WizIQ offers you the fastest way to move online. It is cloud-based, fully integrated, and works with the minimum IT infrastructure and resources, reducing the setup time and cost of ownership by up to 80 percent. Result: faster implementation and low-risk offline-to-online transition. Check out WizIQ features in detail below:
Course creation
Content library
Virtual classroom
Custom invitations
Social sharing
Interactive whiteboard
Server-side recording
Multiple training rooms
Roles and permissions
Screen sharing
Encrypted video streaming
5-way audio-video
Advanced tests
Polls and quizzes
Text chats
Certifications
Discussion forums
Collaborative code editor
Reporting & Analytics
Single sign-on
E-commerce enabled
Premium API & plugins
White-labeling
Mobile-friendly
Go online with minimal resources
WizIQ partner training software is cloud-based and ready-to-be-deployed with your existing IT infrastructure.
The intuitive interface makes it easy for users to navigate, eliminating the need for user training.
The integrated content library takes out the data storage and transfer hassles.
The server-side recording tapes your live sessions, which can be used for insights or further sharing.
The mobile-first approach caters to the mobile-native audience.
The HD video and echo-free audio streaming enhance the user experience.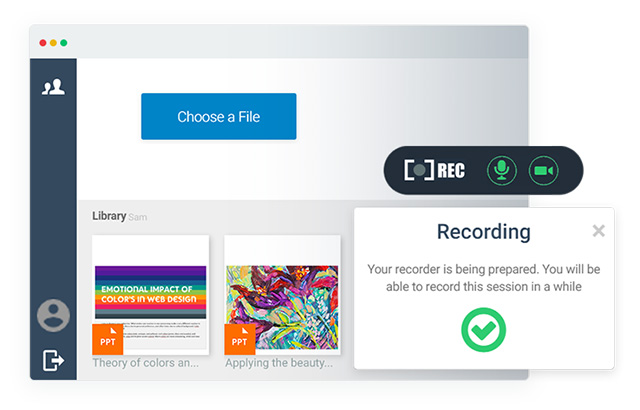 Create partner training programs
WizIQ is full-featured online training software that allows you to create, launch and measure the effectiveness of your training programs.
Create unlimited free and paid courses using WizIQ course builder module.
Create time-bound and self-paced courses with or without tests and assignments.
Cater to diverse learning styles by uploading content in various formats, including text, images, videos, animation, presentations, audios, podcasts.
Create recurring classes once and schedule them when you need to deliver.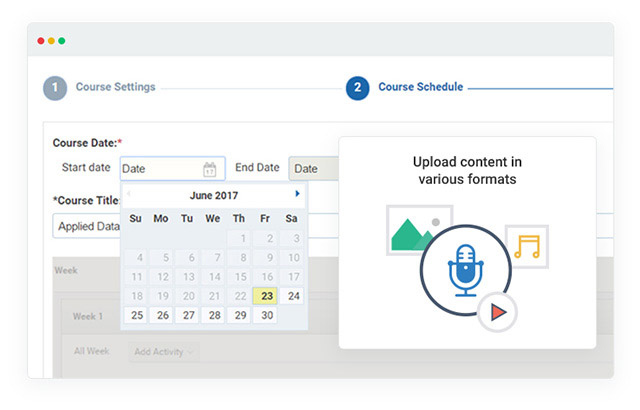 Impart training in diverse formats
WizIQ is one-stop partner training platform to deliver synchronous, non-synchronous and blended learning.
Launch live instructor-led training via built-in HTML5-based webRTC Virtual Classroom.
Float MOOCs for self-paced learning. Create video courses using WizIQ course builder module.
Deliver blended training by combining face-to-face and self-paced learning scenarios.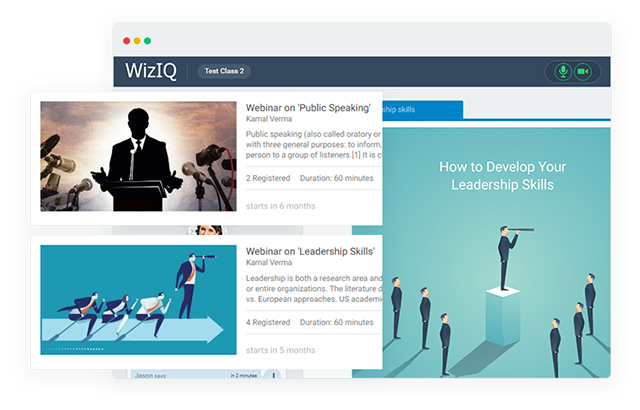 Monitor B2B learning initiatives
Automate admin-related tasks and focus on strategizing the corporate learning.
Monitor attendance and login-logout times of attendees.
Send notifications, communication, and reminders to attendees.
Assess learner performance and content efficiency.
Compile reports related to content views and downloads and content engagement.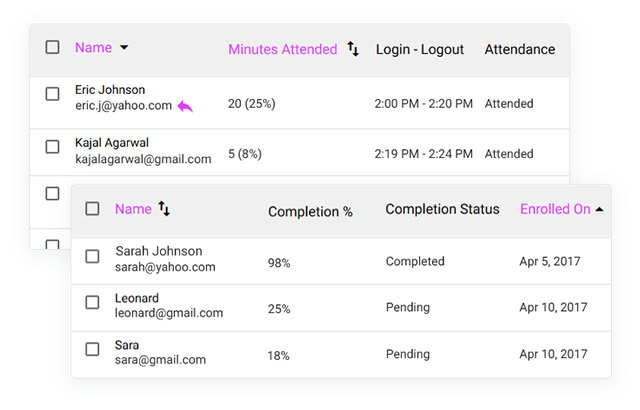 Train, test and certify external audiences
WizIQ manages all aspects of extended enterprise training from one place.
Impart partner training in live, blended and self-paced formats.
Use interactive online whiteboard for better engagement when delivering technical training.
Conduct pre-and-post class tests to get insights into candidates learning progression.
Give advanced text, audio, video tests to assess overall understanding of learners.
Award downloadable certifications upon course completion that they can show to the outer world.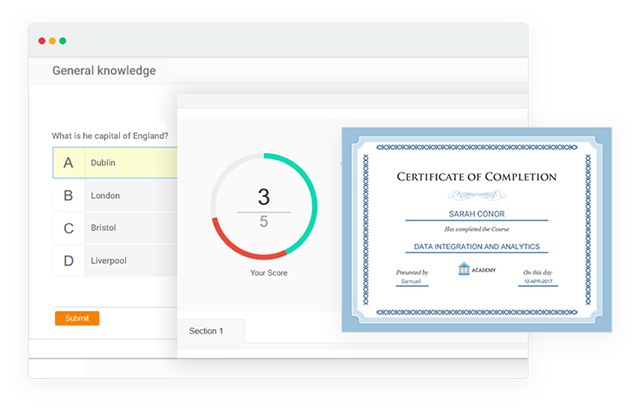 Generate revenue from partner training
Strategize your extended enterprise training program and turn it into an additional revenue stream.
Collect online payments from attendees from across the globe.
Accept payments in all currencies via debit and credit cards, internet banking, PayPal, CCAvenue, Authorize.net, and WellsFargo.
Generate downloadable payment receipts.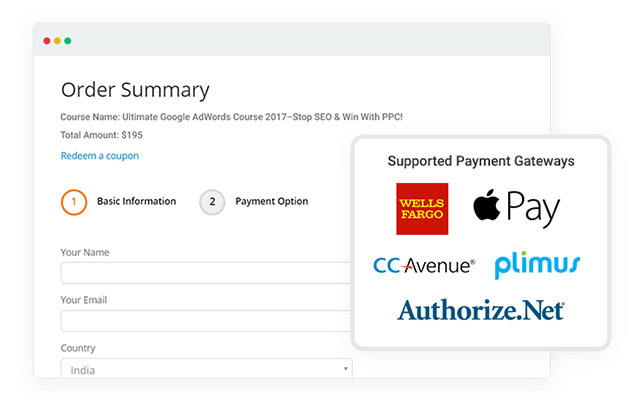 Deliver a branded learning experience
Establish yourself as a learning organization by imparting continuous training to your alliances. Gain an edge by delivering branded learning experiences with white-labeling.
Use company logo, change the banner and color theme and display the favicon in the address bar.
Customize the look and feel of the mobile app and get it listed in Google Play store and Apple's App store.
Use custom URL and splash screen of your live sessions.
Establish custom SMTP gateway to control and backup your outgoing communication on your servers.
Get a custom payment gateway matching your brand colors and themes.