With a comprehensive test preparation software like WizIQ, it is easier and cost-efficient to take your tutoring or test-prep institute online.
Instructor-led classes
High-quality audio-video transmission for tutoring online in live classes
Self-paced courses
Flexible eLearning courses for your learners
Unlimited capacity
Get unlimited storage and as many classrooms and attendees as you want
Online whiteboard
An interactive and feature-rich digital whiteboard for online teaching
Tests and assessments
Option to create 32 types of tests with online test creator.
Reports and analytics
Monitoring and targeted learning delivery made easy with eLearning analytics.
Move test preparation online – Increase your learner base at a lower cost
Online teaching has opened new avenues for tutoring centers, test-prep institutes, and individual teachers. Tutoring online can give you more reach with a lower cost of expansion. An online tutoring software with an integrated payment portal, multilingual support and global connectivity via the internet can help tutoring and test-prep institutes get more learners from around the world. With these benefits in perspective, more and more businesses are using online learning delivery platforms. Listed below are the advantages of tutoring and teaching test-prep courses with an integrated and comprehensive online teaching software:
With no expenses in brick-and-mortar centers and teaching aids and no traveling cost for the students, you get a greater return on your and your students' investment.
eLearning analytics gives you advanced insights of your learners' performance and help you take corrective measures and ensure the success of your course.
Videos, presentations, interactive polls and tests, pictures and online documents make sharing easy and learning engaging.
Conducting courses for test prep online with digital course content leads to zero cost of course content production and distribution.
Online payments and fast transmissions have made it easier to collaborate with educators and learners across the world and increase your learner base.
Online classes and courses are available over the internet and on the phone via mobile apps making them easily accessible and consumable.
Self-paced courses give your students the flexibility to learn in their own time.
Multi-lingual support makes language teaching online a breeze.
WizIQ is all you need to take your tutoring and test prep institute online
WizIQ is an easy-to-use integrated learning delivery platform complete with a Virtual Classroom module, an in-built test creator, a report generator, a payment portal and more. WizIQ helps you replicate the offline teaching experience online with its staple online classroom tools like a feature-rich digital whiteboard, breakout rooms, polling, raise hand and live chat features.
If you want to take your test-prep and tutoring business online with lower investments and quick returns, WizIQ can help you with its suite of holistic eLearning features:
Virtual classroom
Course builder
Digital whiteboard
Polling
Screen sharing
Live chat
Code editor
eLearning content storage
Reports and analytics
Test creator
Online payment
Deliver live learning
Live teaching is an integral part of tutoring and WizIQ lets you deliver high-quality audio-visual learning with its WebRTC-run Virtual Classroom module.
Interact and collaborate with 5-way audio-visual layout.
Low-latency video streaming ensures unrestricted access and echo-free audio output for better delivery.
High-definition transmission makes sure that your students get a great learning experience.
Intuitive and user-friendly interface makes for easy navigation.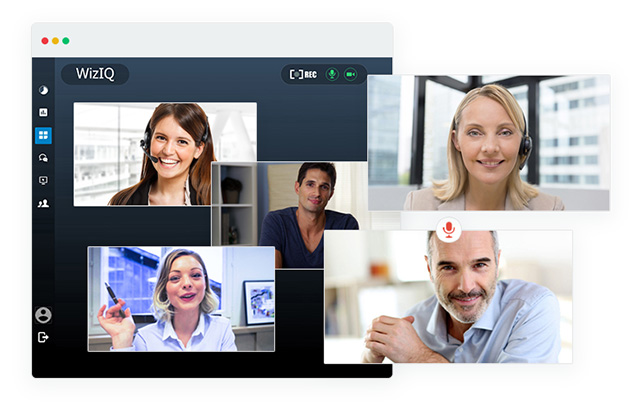 An advanced digital whiteboard
Any classroom is incomplete without a whiteboard which gives the power of visual-aid to the instructors. WizIQ boasts of a online whiteboard that is specially tailored for teaching and tutoring. Let's see how:
Open multiple whiteboards in different tabs to explain a complicated concept.
With whiteboard, draw, illustrate, annotate in real-time during your live class.
Use geometry, physics or chemistry related shapes and diagrams, access geographical maps and do much more.
Real-time sharing
Fast and real-time content sharing with unhindered access is the trait of a well-managed online course. Live online sharing is made quick, easy and secure with WizIQ.
Share your screen or applications such as PowerPoint presentations or Excel sheets with your learners.
Get assured security with RTMPTE protocol and control the accessibility of your course content with user roles and permissions.
Code in real-time with your learners in an integrated development environment (IDE) with collaborative code editor.
Share content in any format such as video, audio, pictures, documents, etc.
Invoke discussions with learners on live chat for improved engagement, interaction and prompt feedback.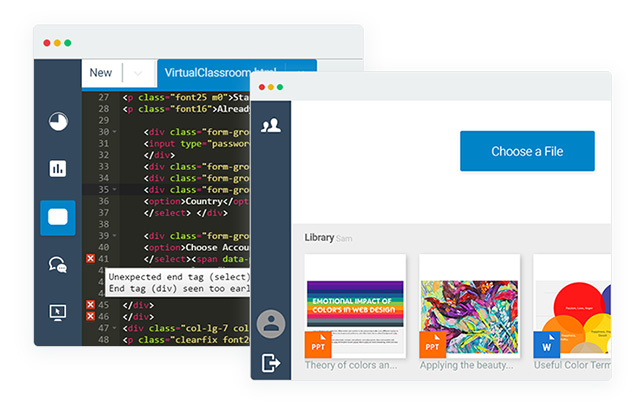 Comprehensive online teaching tools and features
With an array of useful eLearning tools and features, WizIQ makes sure that you are not missing out on any elements of a regular classroom teaching session.
Garner opinions with online polls.
Segregate students into breakout rooms for class activities.
Record live lectures to use them in relevant future sessions.
Features like raise-hand, transferable writing and audio-video controls, multilingual support and course discussion threads foster interaction and collaboration.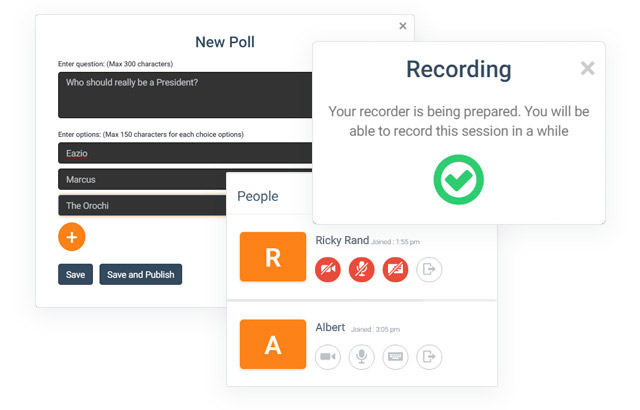 Build beautiful learning portals
WizIQ course builder module lets you create a beautiful website for your eLearning portals within minutes. Take charge of your content management system and build a catchy and inviting eLearning website.
Upload as much course content as you want with multi-format support and unlimited storage plans.
Move, reorder, or arrange your eLearning content and categorize it under different sections to create your course.
Assign user roles like students, instructors, and administrators to the participants to manage your eLearning portal.
Create paid courses integrated with payment portal and customize your tutor website to create a personal branding.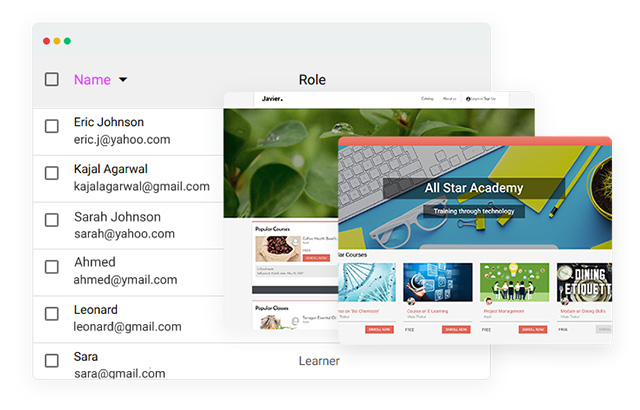 Test learners' progress and performance
reate different types of tests within minutes with WizIQ's online test creation feature and periodically check the performance of your learners.
You can create 9 different types of tests in different formats such MCQs, cloze test, fill in the blanks, match the fields, etc.
Get improved learner retention with engaging tests supported by visual aids and variety of test formats.
Build multimedia tests with videos and pictures to generate your learners' interest in your assessment exercises.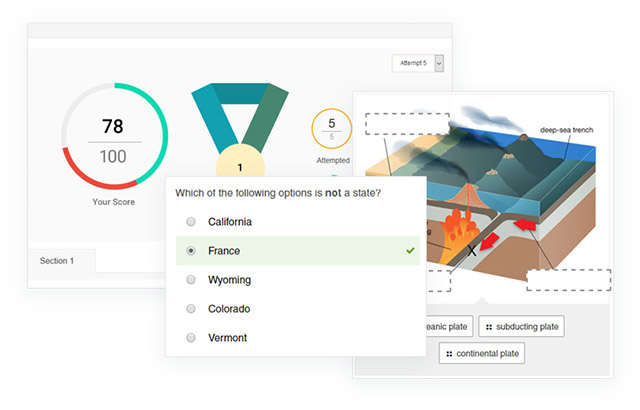 Track course and class performance
In the offline world, the record-keeping of your business and student activities alone is a mammoth task. With the elearning analytics and reports generated by WizIQ, it's much easier to do this online.
View attendance reports and time spent in sessions.
Assess your courses' performance with success and completion rates.
Explore insights of your live class attendance and login logout times.
Download reports in CSV format for future reference.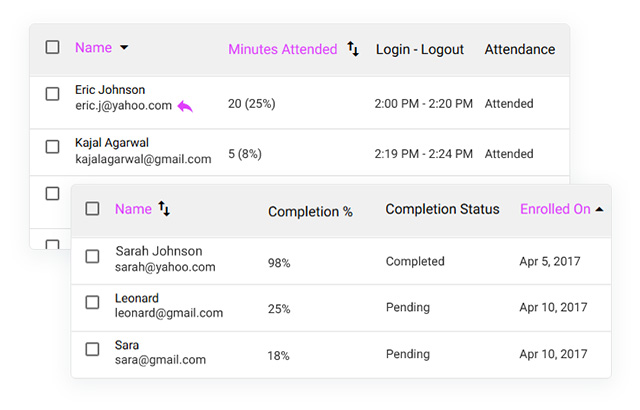 eCommerce and mobile accessibility
To make your course subscription and consumption easy, WizIQ gives you an integrated payment portal and mobile access of your course content to your learners.
Create paid courses and collect payment online via Stripe – a PCI compliant payment gateway.
Get assured security of your payment transaction data through tokenization.
Give access to your course content to your learners with WizIQ's native Android and iOS app for learners and drive learning on-the-go.