Teach live online classes from your eFront website with WizIQ virtual classroom module
Engage your trainees with live, instructor-led online classes
eFront is an online learning management platform which offers tools to create, manage and deliver online classes. eFront is designed as an icon-based user interface and rated high on usability and functionality. With WizIQ eFront virtual classroom module, you can run live classes from your eFront website.
One-click sign in, quick access, and easy to set up and launch
High quality audio and video streaming for better learning
Round-the-clock customer service and support
Ready access to your eLearning content through content library
Performance evaluation and attendance tracking with class analytics and monitoring tools
Assured data security with tokenized access and secure protocols
eLearning tools and features like breakout rooms, whiteboard and instant messaging
What makes eFront a preferred learning management system for your online course?
eFront is a popular learning management system known among online trainers and educators as a simple and user-friendly platform for online courses. Designed for organizations looking for a comprehensive training delivery platform, eFront has gained worldwide praise for its clean, icon-based interface and powerful features. Here is what makes eFront a preferred choice for eLearning professionals:
Open source platform with wide availability and free trial
Clean, easy-to-use and customizable user interface
Option to add multimedia content and pull it from other websites such as Wikipedia, YouTube and Prezi
Built-in ecommerce features allow users to sell their courses
Advanced reporting tools complete with a timeline to show user actions mapped chronologically
File repository to store, manage and readily access your eLearning content
Extensive security features with IP restrictions for safe streaming
Fully responsive design for desktop and mobile devices
Content archive to save your online course content from accidental deletion
Conduct live classes from your eFront website for enhanced learning
Online learning and training have seen an unprecedented rise lately. A growing number of multinational companies and organizations are resorting to eLearning for employees, customers and extended enterprise training purposes. One key element of online education and training is live, instructor-led classes. Your eFront website might be a model choice for your training sessions but without a live class feature, it becomes difficult to attain the optimum output. An eFront live class module smoothly integrates with your existing eFront website and lets you stream live with just a single click. Take a look at the benefits of using a virtual classroom module in you online classes:
Easy to install without the need for a separate sign-in
Reduced total cost of running live classes with zero expenditure on IT hardware
Added authenticity to your online training content owing to online instructor's live presence
Option to access whiteboard to explain complicated concepts
Increased interaction, engagement and bonding between instructor and trainees
Accessibility to already stored training and eLearning content for ready reference
A comprehensive set of online teaching tools like raise hand, polling and breakout rooms
Class attendance tracking and performance evaluation tools
Prompt and real-time feedback by trainees to help you spot weak areas
Assured data safety with secure video streaming and option to record and reuse relevant content
Things to look for while selecting an eFront virtual classroom module
eFront is an ideal solution for your online learning and training delivery needs. A clean and customizable interface and a host of features help you conduct engaging training sessions. Despite being one of the top choices for eLearning content management system, eFront needs third-party software providers for live online training sessions, which is a must-have for instructor-led training courses. With eFront, you have the option to get WizIQ eFront live streaming module. Choosing the right live class module is important as it could make or break your training sessions. Here are the things you should consider before going for an eFront virtual classroom module:
Fast setup and easy integration
Multimedia content format support
Customization and self-branding
Discussion threads
Tracking and evaluation
Fully responsive design
Comprehensive eLearning tools
Assured data security and support
Real-time chat
Live online training delivery with WizIQ eFront virtual classroom module
Online learning and training have seen an unprecedented rise lately. A growing number of multinational companies and organizations are resorting to eLearning for employees, customers and extended enterprise training purposes. One key element of online education and training is live, instructor-led classes. Your eFront website might be a model choice for your training sessions but without a live class feature, it becomes difficult to attain the optimum output. An eFront live class module smoothly integrates with your existing eFront website and lets you stream live with just a single click. We have listed down the benefits of using a virtual classroom module in your online training classes:
Easy to install and run:
WizIQ eFront virtual classroom module could be installed by following few simple steps
WizIQ eFront live class module becomes an integral part of your eFront website and doesn't require additional credentials
High definition and real time audio and video streaming result in better learning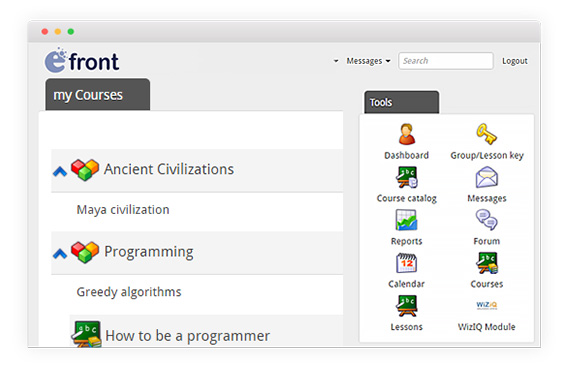 Designed for increased engagement
WizIQ eFront virtual classroom module supports most of the content formats
A white-labelled WizIQ eFront live class module is customizable to the extent that you can add your brand colors and logo to make it look like your own
eLearning tools like raise hand, polling, breakout rooms and integrated whiteboard with exhaustive features make your training sessions as effective as traditional classes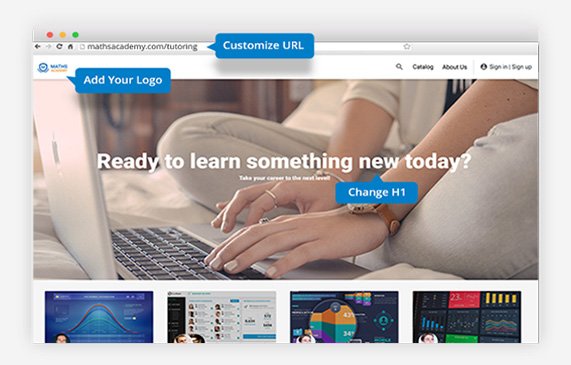 Controlled access and performance evaluation
WizIQ eFront classroom module comes with tracking and monitoring tools to evaluate your trainees' performance
Tokenized access and user permissions put you in control of your content
Secure protocols and undisclosed location of streaming videos let you avoid unauthorized access