WizIQ higher education software offers universities and colleges a low-risk, quick and affordable way to take learning operations online.
Manage learning lifecycle
End-to-end learning management with instruction, collaboration, assessment, certification and feedback into a single workflow
Eliminate admin hassles
Create and deliver courses and exams, and monitor attendance and student progress and performance from one central location
Create and manage courses
Upload and manage as many courses as you want, and save the content into WizIQ cloud library to make it accessible from anywhere
Support diverse learning formats
Deliver learning in diverse formats, including live instructor-led, self-paced and blended from one platform
Improve outcomes
Pull data to get insights into student and instructor performance and the efficacy of learning material
Power up your brand
Rebrand the learning platform to make it appear your own and customize the look and feel of the user interface
How does moving online benefit higher education institutions?
Taking courses online via a distance learning software seems to be the ready answer for many pressing problems that higher education institutes face. Not only institutes improve operational efficiency, but they also ripe a host of benefits, such as:
Connected campus: Globally, close to a quarter billion students are enrolled in higher education, and working adults make up 1/3rd of the total enrolments. Moving online helps institutes build connected campuses and cater to the diverse needs of their audience faster, smarter and in a more economical way.
Improved student engagement: Catering to diverse needs to students has always been a challenge. Moving online makes it possible to personalize learning and achieve better student engagement rate. Offer instructor-led live teaching, self-paced or blended or employ all three methods to cater to diverse learning styles.
Increased student success: Cloud-based education software gives faculty and students the flexibility to teach and learn from anywhere. Also, it allows teachers to tweak instructional methods in the real time depending upon student performance – ensuring improved outcomes.
Affordable education: Colleges and universities are being constantly put under the microscope due to – rising fees, mounting student debt and increasing doubts about the true value of the education they provide. Move online to reduce expenses on physical infrastructure, admin setup and faculty relocation, directly transferring the benefits to students.
What to look for in higher ed software?
Features – the first thing that comes to the mind! True, there's lot more to consider when you shop around. In addition to features, consider
Customizability – whether the look and feel of the platform can be customized to your company branding.
Adaptability – how easily it adjusts to your existing IT infrastructure or the extent to which it can be modified to meet your specific needs.
Ease-of-use – how easy it is to use and how well it will be adopted even by first-time users.
Scalability – whether how capable it is to handle a change in the user-base.
Create connected campus with WizIQ's fully-integrated higher ed software
WizIQ makes it easy for higher-ed institutes to move learning online and bring on board teachers and students from across the world via an LMS Software. It's cloud-based, fully integrated – comes equipped with everything you need to deliver, manage and measure learning.
No hardware setup.
No third-party integrations.
It's business-ready and instantly deployable.
The intuitive interface and simple navigation make it adoptable, impacting the bottom line of your business. Also, it's been designed to play well with your existing systems, like LMS, website or CMS.
The ease-of-use makes WizIQ preferable over other higher education software vendors. When it comes to features, WizIQ higher ed software has it all to meet your unique needs. See for yourself:
Course Builder
Content Library
Email Invitations
Roles and permissions
Social sharing
Virtual classroom
Interactive whiteboard
Screen sharing
Server-side recording
Attendance monitoring
Live text chat
Quizzes and polls
Advance tests
Surveys and feedback
Reporting
Certification
Discussion forums
Payment collection
Mobile learning
Encrypted live streaming
Conditional access to content
API and plugins
White-labeling
Go global with minimal resources
The USP of WizIQ higher education portal software is that it takes you online in the quickest time with the minimum resources. You can expand on a global scale within no time.
The all-in-one, cloud-based eLearning software is ready to be deployed immediately on existing IT infrastructure, meaning shorter time to market.
Scale the capacity as student enrollment increases. WizIQ deploys Microsoft Azure to provide institutes with automatic peak load management facility for handling enrollments more than expected.
Take advantage of authentication and SSO (Single Sign-on) services for multiple tasks and make easy for your students to access everything with just one set of credentials.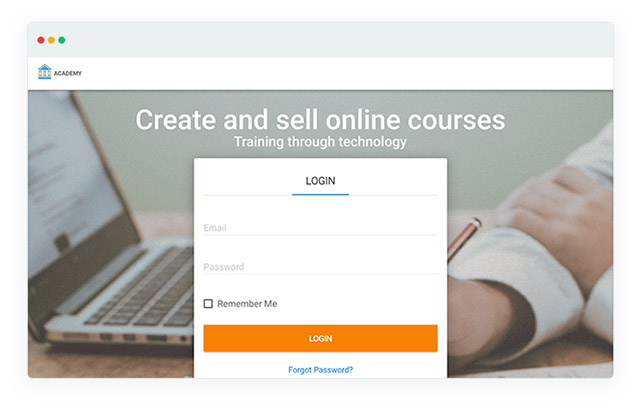 Get everything in one place
WizIQ combines all aspects of administration, instruction, and learning in the same workflow.
Create online courses and upload learning material on the cloud.
Create a MOOC or deliver blended instruction in one-to-one or one-to-many formats.
Offer collaboration opportunities via web conferencing, live public and private text chats and discussion forums.
Create online tests and distribute exams to measure student performance and award certifications on successful course completion.
Collect feedback at the end of each live class or a self-paced course with the built-in feedback form.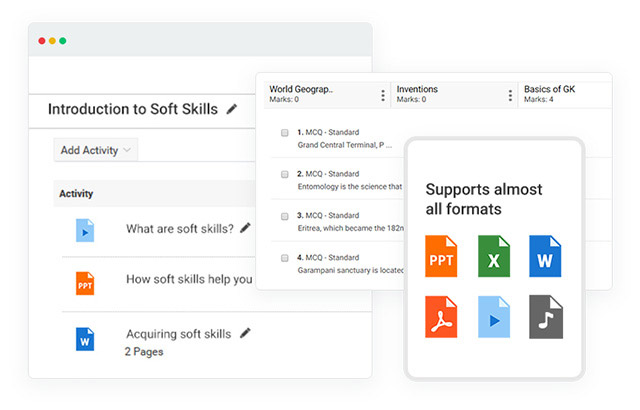 Offer diverse opportunities for learning
WizIQ education software has been designed keeping in mind the needs and requirements of administrators, teachers, and students.
Offer the flexibility of self-study and learning live from instructors, allowing students to choose a format that best fits their needs.
Equip teachers with new skills and competencies by delivering them training from the same platform.
Record and share live sessions with teachers and students for future references.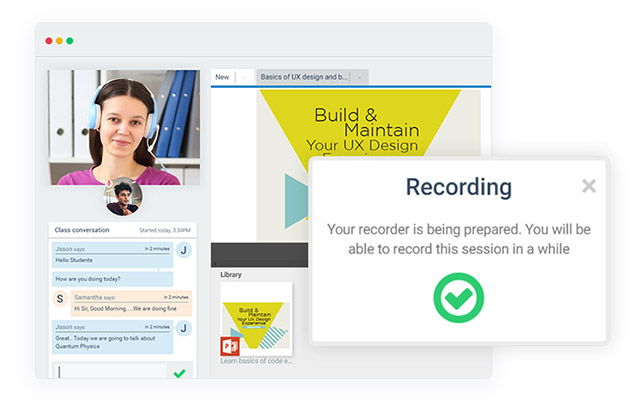 Provide all required tools for instruction
The software for higher education comes loaded with all the tools you'd possibly require to deliver instruction.
The online whiteboard replicates the physical classroom in the virtual classroom ensuring an engaging learning experience.
Advanced shapes and diagrams are built-in to make technical teaching subjects like math, physics, chemistry, statistics, geography easy.
Code editor allows for teaching coding languages in a virtual environment.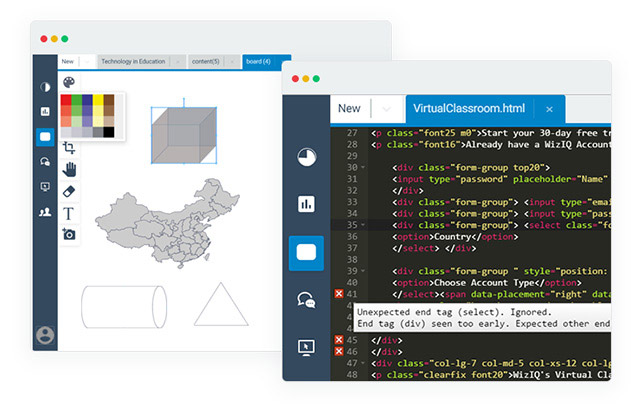 Access reports, gain insights, take action
The automated reporting saves time in sorting and digging through data.
View results instantly to determine student performance in a particular subject.
Get data for each student regarding attendance, course completion rate and test performance to identify gaps in content delivery, instructor effectiveness, and student performance.
Combine various reports to design instructional and retention strategies.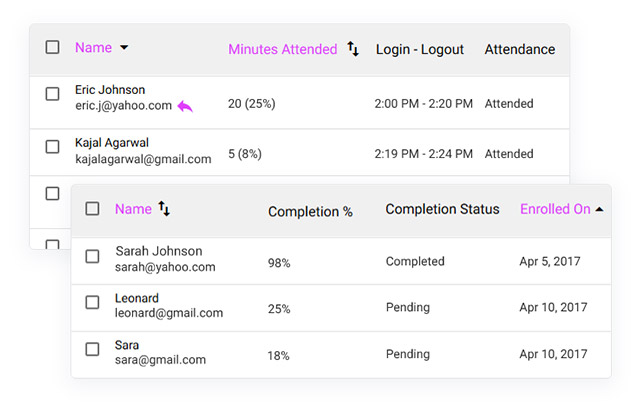 Reduce operational costs significantly
Bring down on-campus student load and trim costs of physical infrastructure and operations – time, space, utilities, and personnel with WizIQ higher ed software.
WizIQ enables further economies of scale through features, such as session recording. Additional assets don't have to be expensive.
Precious work hours are not lost in mundane tasks, such as uploading data and reporting.
No requirement for third-party integration further brings down the cost.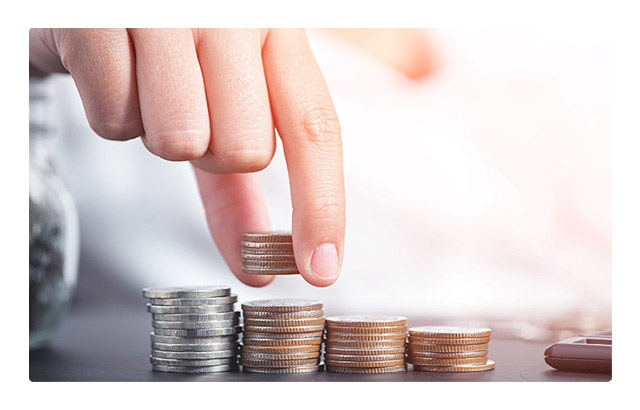 Integrate WizIQ with your existing systems
Combine WizIQ and your existing technologies in the same workflow and reduce the number of steps taken by your users. Integrate WizIQ with your
Learning Management System (LMS), and Content Management System including Moodle, eFront, Joomla, Wordpress and Drupal.
Content Management System (CMS), including Drupal, WordPress and Joomla
Your website through advanced Virtual Classroom API.