WizIQ distance learning software helps educational institutes to deliver anytime anywhere yet inclusive and collaborative learning to students located across geographies.
Launch unlimited courses
Launch and manage unlimited paid and free, public and private distance learning online courses with ease.
Manage a large user-base
WizIQ supports unlimited learners on the platform, making it easy for you to manage a large user base.
Collect course fees
Collect fees for your courses online via debit and credit cards and other e-wallets from the built-in payment gateway.
Automate admin
Automate email notifications, reminders, attendance monitoring, login-logout times and test results.
Measure student performance
Give tests to students and access automated reports to get insights into learner performance.
Award certifications
Award downloadable e-certificates to candidates on successful course completion.
Benefits of taking your distance education programs online
Distance is no longer a barrier to an inclusive learning experience with distance education software like WizIQ. Rather it works in your favor and reduces the campus load while allowing you to provide connected yet affordable learning to remote students.
Taking your distance education programs online offers several tangible and intangible benefits.
Trim down the time and cost of expansion to gain economies of scale.
Launch unlimited distance learning courses online.
Achieve operational efficiency by automating mundane admin tasks.
Gain a competitive advantage by riding the wave of technological change.
Have centralized control over decentralized instruction and learning.
Bring onboard the expert faculty from across the globe.
Design in-person interventions to break the monotony resulting from self-study.
Offer a holistic and engaging learning experience even outside the physical campus.
Move distance learning online with WizIQ
WizIQ provides universities, colleges and other educational institutes with the simplest, fastest and most affordable way to go online. With the following features, it's the most comprehensive distance learning platform for creating a holistic learning environment for distant students.
Course builder
Content library
Email invitations
Roles and permissions
Social sharing
Virtual classroom
Interactive whiteboard
Screen sharing
Server-side recording
Attendance monitoring
Live text chat
Quizzes and polls
Advance tests
Surveys and feedback
Reporting
Certification
Discussion forums
Payment collection
Mobile learning
Encrypted live streaming
Conditional access to content
API and plugins
White-labeling
Move distance learning online easily
Equipped with all required distance learning tools, WizIQ helps you move online with the least setup time, cost and IT infrastructure.
WizIQ is cloud-based and instantly deployable, enabling you to deliver your first session within minutes.
WizIQ offers you the ready support to launch unlimited courses, enroll unlimited users and deliver unlimited live classes.
Integrated cloud storage eliminates the hassle of porting learning material, enabling instructors and learners to access it anywhere.
The mobile-ready platform helps you cater to mobile-native and on-the-move audience.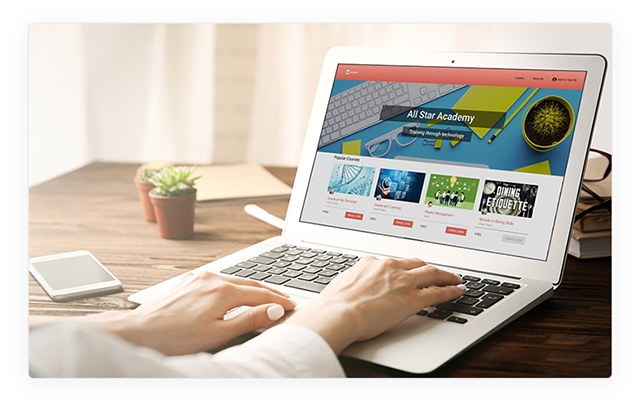 Provide collaborative learning to distant learners
Take out the distance from distance learning software and make them feel more connected even from a distance via WizIQ.
Use virtual classroom to add live component to distance, self-paced courses.
Take to discussion forums to answer students' questions and to encourage them to discuss and help other students.
Conduct webinars, conferences and expert speaks from the same platform to provide distant learners the additional opportunities to connect with others.
Conduct live virtual tours to college campus for remote students.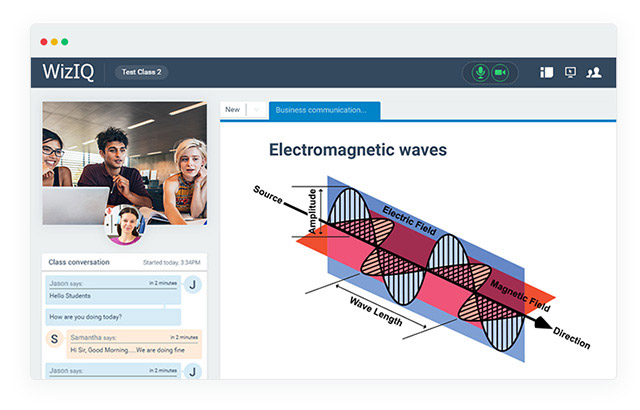 Manage student lifecycle effectively
WizIQ helps you manage your learners' journey from one place.
User authentication and verification is in place to allow students register with you securely.
Collect payment for the courses via built-in payment gateway.
Allow access to classes, video tutorials and recordings to foster learning.
Give tests – spoken or textual and get insights into their performance.
Certify them upon successful course completion.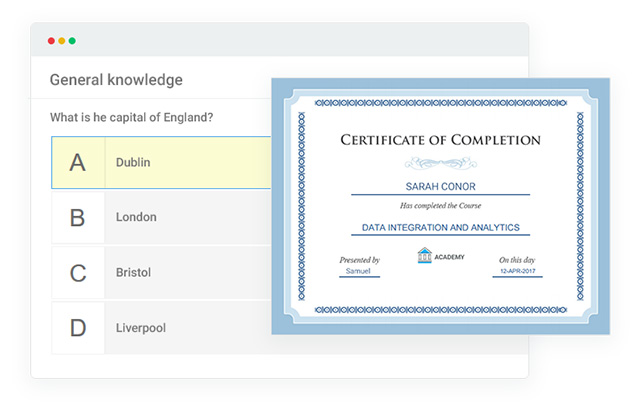 Increase instructor effectiveness
Automate mundane tasks, freeing instructor work hours so that they can focus on mentoring students.
Automate students' data report as all the information is stored within the distance learning platform.
Take advantage of automatic email notifications to send communications and reminders to students.
Get data-driven insights into content consumption and students' performance from built-in reporting tool.
View content download reports to understand what works better with the students.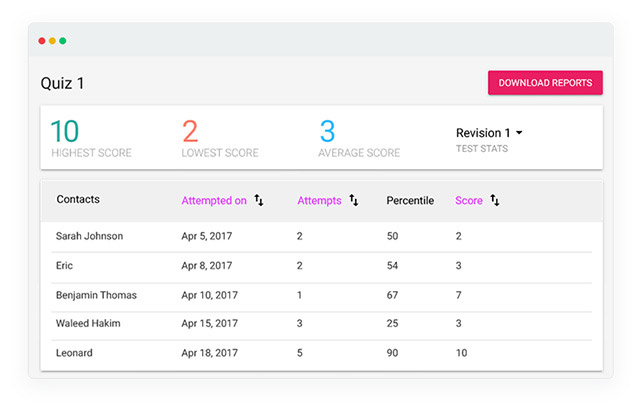 Accelerate institutional growth
Moving distance courses online helps speed up your expansion and achieve revenue goals.
Expand your learning operations and reach more students without building physical campuses.
Deploy diverse learning models from one platform to cater to different audience segments.
Be the part of the big change and establish a reputation of agile institution.
Scale up education operations any time just by upgrading your subscription.
White-label your distance education portal for successful brand building.