WizIQ lets you create an online test to assess the progress of your class. With our online test generator tool, educators and corporate trainers can create, publish and conduct online tests in few simple steps.
Easy-to-use
Easy to create, launch and analyze online tests and assessments
Customizable
Options to set rules and permissions to customize your tests
Multimedia content
Embed multimedia content (pictures, documents, videos, URLs) using WizIQ's rich text editor
Comprehensive question types
Select from multiple question types (fill in the blanks, match the fields, multiple choice questions and more) for test creation
Cheating-proof
Prevent cheating with giving out invite-only access to test-takers and setting time limits
Evaluation and analysis
Analysis made easy with comprehensive scorecards, detailed insights and test reports.
Move your tests online for scalable access and enhanced engagement
Moving tests and assessments online has its own sets of benefits and challenges. Innovations in education technology have made it easier than ever to create online tests and quizzes, and the benefits have started to outweigh the challenges. Take a look at the advantages of conducting and creating online tests and assessments:
Easy dissemination: Create tests online and share the link of your online test via the internet with any number of students at a time without worrying about the class size or resources.
Enhanced accessibility: Your students or trainees have the option to access the tests from a remote location saving travel costs and sparing you from the trouble of seating everyone in a classroom.
Multimedia content: Images, videos, graphics and sound files could be added to your tests to make them more engaging and increase the scope of questions asked in the tests.
Cost saving: Online test reduces the overall cost as you don't have to spend money on renting space, printing test papers and traveling to the venue.
Instant evaluation: An online exam builder software can assess the answer sheets and provide results instantaneously saving your time and giving you a chance to address the weak areas promptly.
Flexible and customizable: Online tests could be created from a vast collection of questions and making different sets for different groups of attendees doesn't require extra cost and efforts.
How to select the right online exam builder software?
Choosing a suitable online test creation tool depends on the scale of your tests, your students and the kind of tests you are planning to conduct. We have a list of points you should consider before going for an online test creation software.
Option to create multiple types of tests
Comprehensive rule setting guidelines
White labeling for self-branding
Unlimited capacity
Option to add multimedia content
Easy sharing and fast processing
Course completion certificate
Advanced tracking and reporting
Subject-oriented tests
Create tests online with WizIQ
WizIQ online exam builder lets you easily generate online tests and assessments. With 24/7 service support and features that cater to all your requirements, WizIQ online test creator software makes sure that your online tests and quiz are conducted successfully.
Fast test creation and seamless delivery
Create test online with WizIQ's user-friendly platform for smooth navigation.
No need to download a separate software to create online tests.
Rich question creation using online exam builder helps to increase the scope of online tests.
Option to add multimedia content and create engaging tests.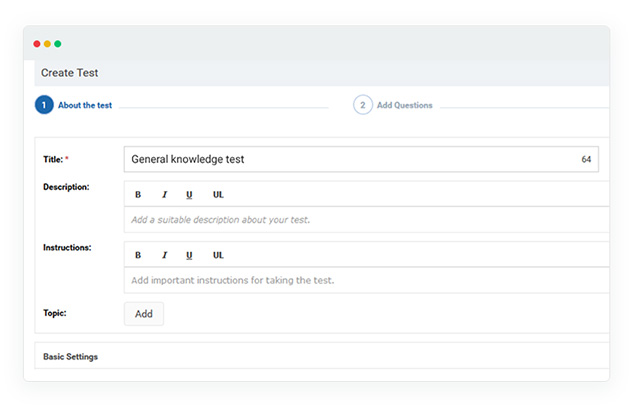 Customizable platform with diverse applications
Create 9 types of tests with WizIQ online test generator such as MCQ test, cloze test, image label test, true-false questions and more.
Set activation and expiration time, choose different formats and restrict actions to take control of your online tests.
Create multiple sections in your tests with different question types using WizIQ online exam builder.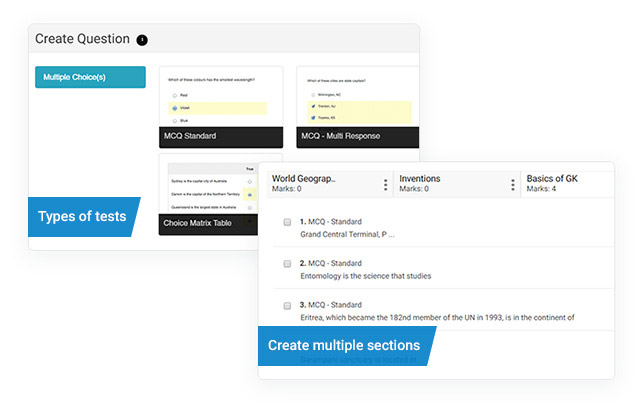 Build secure and cheating-proof tests
Invite-only access via email or shareable link to your tests makes sure only your students can write the tests.
When you create tests online, set time limits to make cheating difficult and create different sets of test papers with randomized order of questions.
Change options in MCQs, conduct subjective tests or rearrange the sections to make your tests cheating-proof.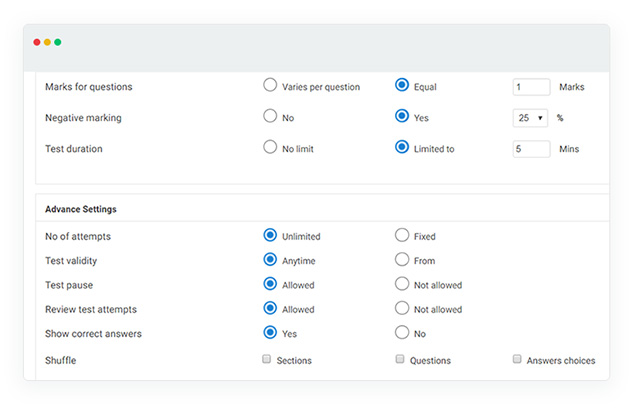 Evaluate, assess and take corrective actions
Generate comprehensive scorecards after the assessments to judge the overall progress of your students.
Do comparative analysis, check percentile scores and identify the areas where your students didn't perform as expected.
Share reports and feedbacks via email and social media with your students for future reference.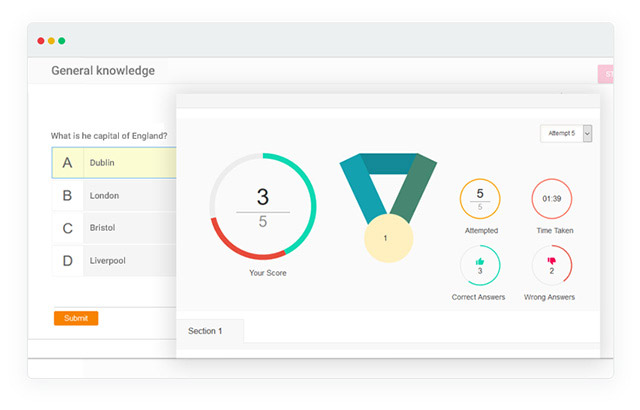 Assessment of your learners' progress is an important part of your eLearning classes. Online test generator not only give you a picture of how your students are doing but also help spot weak areas of your course content or learning delivery so that you can make appropriate improvements. Here are some practical applications of online tests besides learners' progress assessment:
You can create an un-graded, low stakes test at the end of each session to understand how well the class has understood the content.
A rapid fire multiple-choice quiz can help you break the monotony and re-ignite your students' interest in the content.
If the learners are finding the test too easy or too difficult, it means that the content is not challenging at all or very difficult to understand, respectively.
Before starting to teach a fresh batch of students, you can conduct a standardized assessment to understand where the class stands which will help you in designing the curriculum.
Although moving your tests online is a mammoth task, if it's done in the right manner, the tests can later be replicated to serve more students, customized to change the difficulty levels and made more interactive with multimedia content. Here are the challenges online educators face while using an online exam builder software:
Collaboration is difficult in online assessments which can lead to an impersonal class environment.
The process of setting up online tests is tedious, takes more time to put in place and is more complicated than conducting traditional tests.
Millennials today are well acquainted with technology, but they may face problems in writing online tests as they are not accustomed to it.
When you create tests online, cheating prevention is difficult in an unsupervised setting as one can easily look for the right answers on the internet or from a textbook.
Technical problems like poor internet connectivity or hardware problems from students' end can cause uncertain delays
What to do in such circumstances? Take a look at these suggestions to counter problems associated with generating online tests efficaciously:
Use virtual classes to introduce the tests and give feedbacks after the test so that students do not feel isolated.
Take a beta test-run before launching the actual test, treat it like a serious test and let your students understand how they work so that they get accustomed to it.
Cheating prevention is difficult owing to a lack of direct supervision, but this could be countered with introducing subjective questions, conducting open-book assessments or setting time limits for difficult questions.
Technical difficulties are uncertain hence the only precautionary measure against them is prior testing before starting the assessment.