WizIQ provides an end-to-end solution to create and sell your online courses and live classes. Make transacting easy for your customers with our speedy and secure payment platform
Instant payment with Stripe
Customers can make online payments using their credentials (name and email id) through Stripe
No commission charges
Sell online courses without paying commission on the payments made by your customers
Integrate with your course
The option to integrate a payment portal with your course ensures simple transactions without the hassle of going for a third party service provider
Quick setup and easy navigation
One-click setup and user-friendly interface of the payment portal make the payment process stress-free
Safe and secure
Assured security of your payment transactions with PCI compliance
Manage transactions
Organize your payment data and download payment reports in Excel format
Why do you need an eCommerce enabled LMS?
Creating and selling online courses has become a booming business. From an individual teacher to a company providing online courses, everyone is in need of an LMS eCommerce integrated platform. An integrated eCommerce feature lets you create a paid course and sell it to your online learners or trainees. Here are the advantages of choosing an eCommerce LMS for teaching online.
Sell online courses and instructor-led classes efficiently, without a significant investment of time, money or efforts.
Expand your customer base worldwide by offering online payment option with an eCommerce LMS.
Make transacting hassle-free for your customers by offering an in-house and user-friendly payment portal integrated with your online course.
Managing your online transactions is relatively simple with the option to export reports and handle course and payment related transactions from a single platform.
How to create paid courses on WizIQ
Paid course creation takes few simple steps with WizIQ course builder module. With its intuitive interface, WizIQ makes it easy to use its eCommerce feature to sell online courses and live instructor-led classes.
You can create paid scheduled or self-paced course in WizIQ course builder module while creating a new course by selecting 'paid' course option in the menu.
You can invite students to your course through their email ids or by sending them your course URL.
Course visibility can be controlled by giving access only to the enrolled users.
When you select 'paid' course option, you can enter the price of your course in US dollars which will be visible to your customers.
To manage your transactions, you will have to log in as administrator, go to 'Academy settings' option and click on 'Transactions' tab to see details like name, transaction id, date of purchase, product, etc.
The transactions details are also downloadable in CSV format.
Your students can purchase the course by putting in their name and email id, selecting the mode of payment and making the payment.
The purchased course is made immediately available to the buyer.
Building sellable courses with WizIQ LMS eCommerce
With a payment portal integrated with your course management software, you get a chance to add a revenue stream in your online course without much hassle. WizIQ comes with an integrated eCommerce feature to let you offer paid courses online. Take a look at the features and capabilities of WizIQ's eCommerce module
Quick setup
Easy navigation
Integrated
Single Sign-on
PCI compliant
Safe and secure
Transaction management
Scalable
Set up in an instant
Adding a paid self-paced or instructor-led course on WizIQ is as easy as creating one – few clicks and you are good to go.
Create sellable courses by selecting 'paid' course option and entering the price.
Invite students easily by sending bulk invites, emails or the course URL.
WizIQ's fast processing and intuitive interface lets you work with ease.
With the single sign-on (SSO) feature, your customers don't have to sign-in separately to make the payment.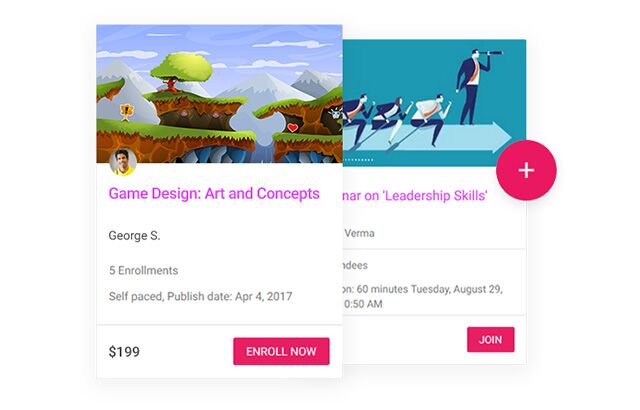 Manage your transactions efficiently
Payment transactions are difficult to manage in the offline world as they require a lot of data entry. With WizIQ's LMS eCommerce, you can handle your transactions in an organized and secure manner.
Login as admin and check details related to your transactions like name, date, products, prices, etc.
Download Excel reports of the transactions on your paid courses.
Get the options to arrange your data or filter it according to different fields.
A user-friendly and intuitive payment interface gives a better customer experience.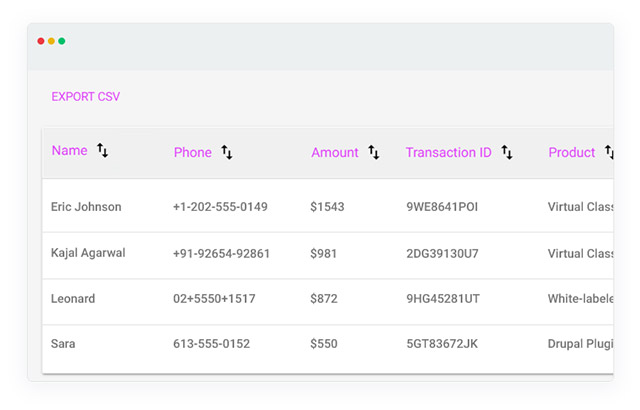 Assured security and scalability
WizIQ LMS eCommerce module makes sure that the sensitive transaction data like account details and passwords always remain secure and the portal works perfectly even when your batch size increases.
Use Stripe, a PCI compliant payment gateway, for your transactions.
Payment information (card and account details) are securely collected using tokenization.
Auto-scaling technology supports multiple transactions when the number of students increases.