WizIQ's mobile learning platform comes with native iOS and Android learner apps with which your learners can log in, check notifications, attend live classes and access self-paced courses from their smartphones and tablets.
Flexible learning
Course content and live class access on smartphones with WizIQ mobile learning app
Native apps
iOS and Android mobile applications for different devices
Higher engagement
Mobile-led learning for increased course consumption and higher engagement
Ease-of-use
Easier for learners to complete your course with mobile access to course content
Custom-branding
Custom-designed app with your company's logo and branding
Enhanced collaboration
Real-time chats and in-app notifications for course-related updates
What is mobile learning?
mobile learning is an educational system which offers content to be learned on portable devices such as smartphones, tablets, and laptop among others. Mobile learning also supports social and content synergies promoting online distance education. Learning content is delivered through mobile applications.
It allows for learners to access digital study material at any time and from anywhere. This flexibility of learning has helped universities to reach out to students located in far-flung areas, and corporates to implement training to employees based out of global locations. mLearning supports dynamic content which means that teachers and trainers can incorporate game-based learning, interactive components (polls and live surveys), live classes for increased learning.
Greater reach and engagement with mLearning
mLearning has become a crucial part of online teaching and training. Mobile learning fits into the changing content consumption and device usage patterns and caters to the reducing attention spans and the need for mobility of today's workforce. Take a look at the advantages of using a mobile learning platform to deliver online teaching or training:
Learn on-the-go: A mobile learning platform helps your students or trainees learn anywhere and anytime with mobile access to your course content and live classes
Higher reach: Owing to the fast-paced rise of mobile phone usage, mLearning gives you a chance to expand your learner base
Greater engagement: Since contemporary learners are increasingly using mobile phones for their day-to-day tasks, learning on mobile fits into their daily routine easily
Lower cost for learners: Your learners save cost in their online learning setup as smartphones are a cheaper alternative to laptops and desktops
Ease-of-use: It becomes easier for your learners to consume the course content via mobile increasing the completion rates for your online course
Device compatibility: Delivering learning independent of the devices increases the overall reach of your course
How to deliver mLearning with WizIQ's mobile LMS?
WizIQ mobile LMS comes with native mobile applications for iOS and Android devices. Also, WizIQ's mobile-responsive website makes it easy to navigate on smartphone screens. With mobile learning platform, you can offer your learners a quick and easy way to sign up for your online course and access course content and live classes anytime and anywhere. With WizIQ mobile learning solution, your learners can:
Check notifications to keep a check on latest updates, new courses or upcoming classes
Attend live classes while on-the-move
View course content such as documents, videos, images and presentations
Interact in real-time with teachers and students via messaging feature in the mobile application
Teach and train on-the-go with WizIQ mobile learning solution
WizIQ mobile learning solution lets you deliver live classes and self-paced courses directly to your learners' smartphones or tablets. With a comprehensive set of eLearning features, a responsive website and native apps for iOS and Android devices, WizIQ makes mobile learning easy and accessible.
Notifications and updates
Real-time collaboration
Live classes on mobile
Mobile access to courses
Real-time messaging
Secure streaming
iOS and Android app
eLearning tools and features
Content format compatibility
Ease-of-use with mobile learning
WizIQ mobile learning solution makes online learning easy and efficient to save your learners' time and efforts.
User-friendly interface of the mobile applications for faster navigation
Device independent learning for greater access
Relatively lower cost in learning online with mobile devices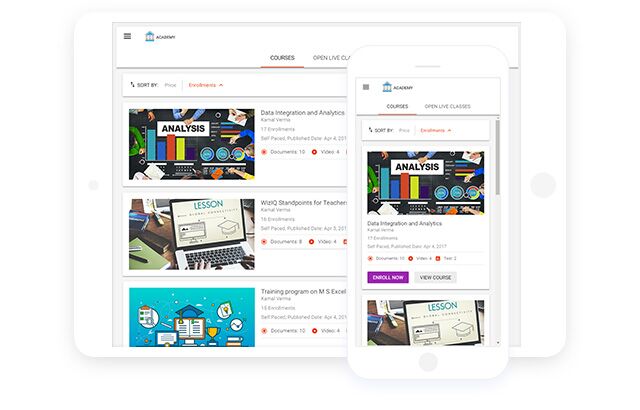 Flexible eLearning alternative
Mobile learning platform gives your students and trainees the option to learn anytime at any place which leads to higher course completion rates and increases the probability of your course success.
Let your learners access your course content on-the-go with their smartphones and tablets
Collaborate live with real-time messaging
Have an engaged learner base with in-app notifications for course and class-related updates
Custom-branded mobile application
You can get a custom-designed app with your company's logo and brand color under WizIQ's Enterprise plan to deliver mobile learning while retaining your company's branding.
Get the WizIQ app designed according to your brand's color theme
Add your logo to the app interface to showcase your brand
Get a splash-screen with your company's branding and your company's logo as the app icon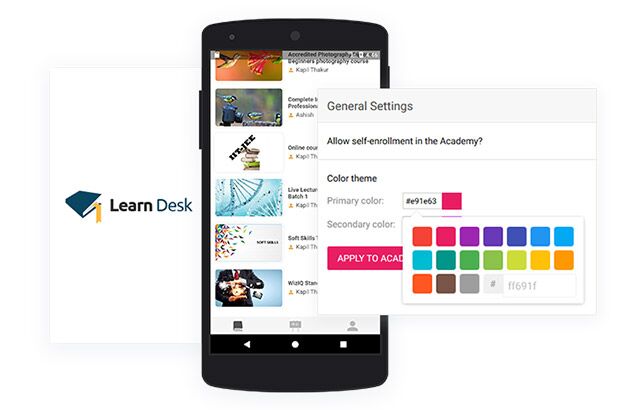 Mobile-led live classes
WizIQ mobile learning app gives your learners the option to attend live classes and take online tests from their smartphones and tablets. With WizIQ's mobile LMS app, your learners can:
Attend live, instructor-led classes while on-the-move
Collaborate in real-time with the instructor with live messaging feature
Check the live class schedule created by the instructor
Take part in online tests and assessments with their mobile device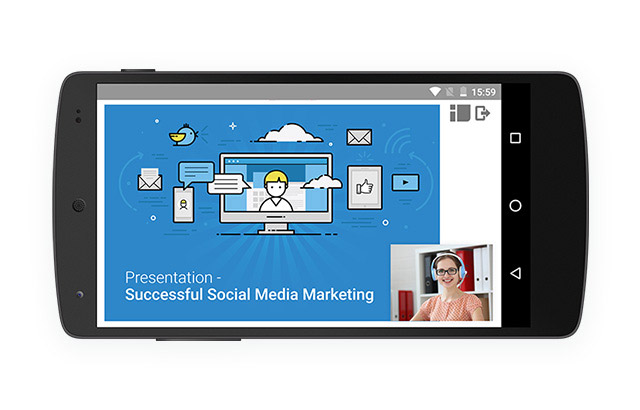 Mobile-ready self-paced courses
WizIQ lets your learners view and download the course content (documents, presentations, videos, and images) and access your self-paced courses from the mobile LMS app. Your learners can:
Easily access your course content
Consume self-paced courses uploaded in the Course Builder
View documents and videos from their mobile devices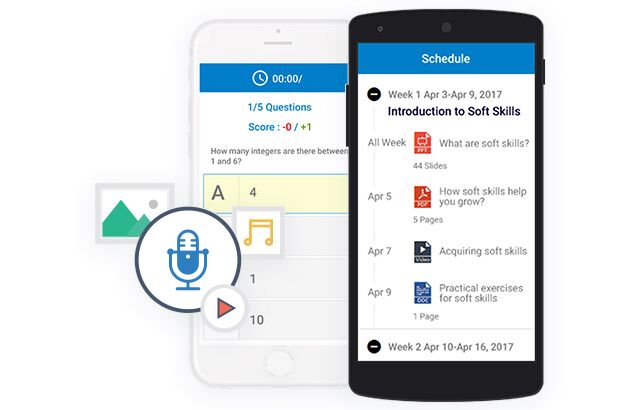 Comprehensive teaching tools and features
WizIQ offers a set of enterprise tools and features to help you deliver effective learning. With WizIQ m-learning app, your learners can benefit from these features in the following ways:
Access to online whiteboard during HD live sessions
Features like raise-hand, polls, multilingual interface and breakout rooms for collaborative learning
Built-in media player, screen sharing and application sharing options for improved access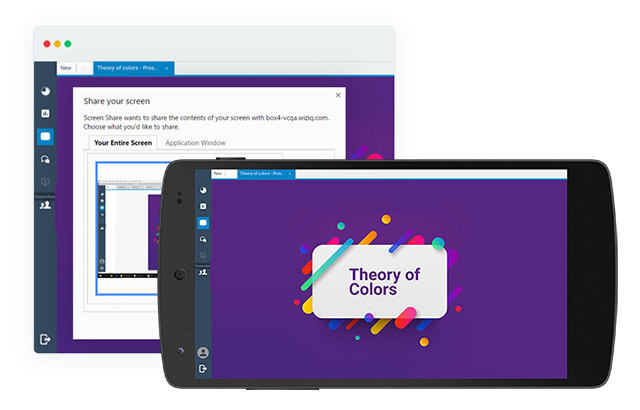 Intuitive design and seamless interface
WizIQ mobile LMS app comes with a beautiful user-interface, seamless navigation, and intuitive design to ensure successful adoption and ease-of-use.
Fast processing and contemporary look & feel offer an enhanced mobile learning experience
Intuitive design and easy-to-navigate screens ensure easy adoption