WizIQ vocational training software offers you an easy way to deliver trade-based, language, career and technical training online to audiences anywhere in the world
Train online
Deliver live or self-paced vocational education and training (VET), apprenticeship programs, career and technical education (CTE) and certification courses.
Manage training workflow
Consolidate training-related activities and manage execution, administration, learning, assessment, certifications, and analytics from one place.
Manage payments
Allow your audience to pay for courses swiftly and securely with the built-in payment gateway. Accept payments via net banking, e-wallets and debit and credit cards.
Automate admin
View training recordings, send notifications and reminders, build quizzes, assign roles and permissions, monitor attendance and performance from one place.
Scale up your business
Scale training operations without investing in IT infrastructure at any time and manage ever-increasing attendee-base without any hassles.
White-label your portal
Give your institute's branding to your learning portal. Opt for white-labeling for custom look and feel, payment gateway, notification templates, SMTP gateway, and URLs.
Challenges of vocational training providers
Career and vocational training institutes like yours play a crucial role in social and economic development by skilling people, promoting self-reliance and providing employable resources to businesses. Despite being instrumental in individual and industry growth, the institutes face a number of challenges – the most widespread ones include:
Limited capacity to increase student intake
Inadequacy of financial and infrastructural resources to expand training operations to new locations
Less or no resources to deploy new innovative training models
Lack of technical faculty for training students
Competition from local vocational education providers
Difficulty in assessing the real impact of skilling on employability
Moving online – how does it benefit your vocational training institute?
Taking your vocational training institute online is an easy and sustainable solution for many of the challenges you face. It works well for all kinds of setups, including community colleges, polytechnic institutes, colleges for further education, technical schools and apprenticeship institutes. Deploying vocational training software helps:
Expand training operations quickly and cost-effectively: No need to replicate your business model to a new location. Simply use your existing IT infrastructure and move courses online.
Increase student enrollment: Invite students for a virtual tour of your college, direct interaction with the admissions department and faculty and guest lectures.
Offer flexibility in VET: Going online allows you to offer your students the flexibility to learn anytime anywhere.
Deliver certifications online: Move courses online to allow students from across the world to take your certification courses at their own pace.
Getting the best faculty on board: Rope in the best faculty members from around the world without having to relocate them.
Driving better learning outcomes: Collect data for online training sessions and analyze the effectiveness of the course material and teaching methodologies. Strategize student success basis what's working and what's not.
What to look for in vocational training software?
There are a number of factors you need to consider when looking for vocational training software. These include:
IT requirements: The biggest challenge is to replicate existing infrastructure elsewhere to expand training operations. A cloud-based platform means no capital investment and space requirements for IT hardware and physical infrastructure.
Support for different course types: An ideal software should support at least live, face-to-face training, time-bound video courses, certification programs and soft skills training courses.
Support for technical training: Professional vocations prepare individuals in technical trades such as engineering, architecture, construction, IT, agriculture and health services. An ideal platform should have a built-in mechanism for technical teaching.
Test creation: Look whether a potential platform offers test creation and evaluation facilities. Also, the types of tests it supports.
Ease-of-use: An easy-to-use platform encourages technology adoption, impacting the bottom line of your ROI.
Scalability: Look whether a platform is capable of handling the expanding user-base or manage traffic load.
WizIQ vocational training software helps take your institute online in the quickest and most affordable way
WizIQ has it all you need to take your career and vocational training institute online. It's cloud-based and works with minimal IT infrastructure, reducing the total cost of ownership (TCO). Also, the subscription-based pricing makes it a low-risk investment for you. The built-in features and tools to support technical teaching and eliminate the need for third-party plugins, ensuring further economies of scale. In addition, WizIQ allows you to manage all training-related activities and back-end operations from one place.
Explore below WizIQ features to know how it is the best bet for your vocational institute:
Course Builder
Content Library
Email Invitations
Roles and permissions
Social sharing
Virtual classroom
Interactive whiteboard
Screen sharing
Server-side recording
Attendance monitoring
Live text chat
Quizzes and polls
Exam creator
Surveys and feedback
Reporting
Certification
Discussion forums
Payment collection
Mobile learning
Encrypted live streaming
Conditional access to content
API and plugins
White-labeling
Going online made easier than ever
The USP of WizIQ vocational training software is that it takes your vocational courses online within no time.
The cloud platform is business ready and comes equipped with everything needed for end-to-end online learning management. No third-party attachments required.
Enable true mobility by delivering training on iPads, tablets, smartphones.
Deliver live and self-paced video courses from one platform. No separate application is needed to deliver time-bound certification courses.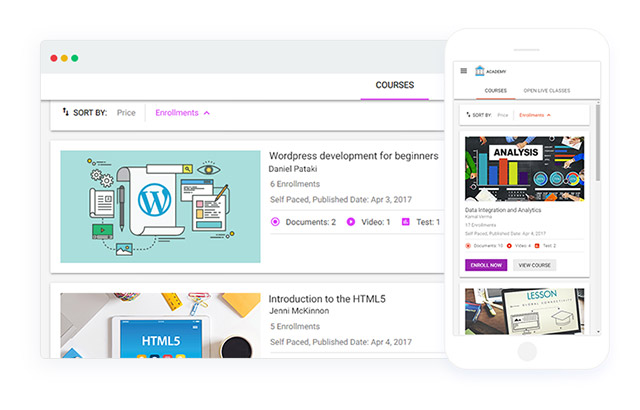 Expand training operations fast
Replicating an existing business model in a new location is no longer a pain. You don't need a physical infrastructure to expand your operations.
Consolidate all business processes and exercise control from one central location with one set of username-password credentials.
Allow learners to access learning material from anywhere by uploading content in cloud library.
Bring on board the best technical teachers from across the world and establish your reputation of a market leader.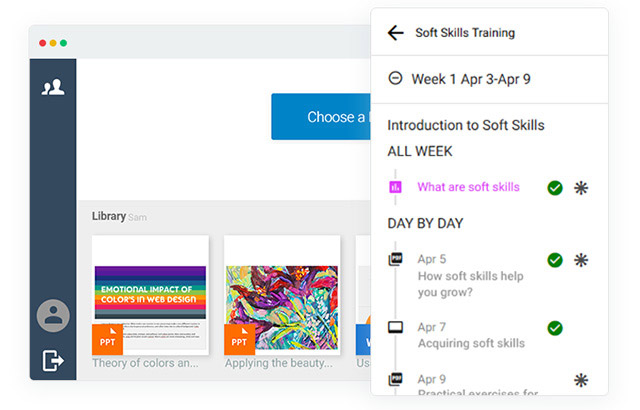 Teaching technical subjects online is easy
WizIQ vocational training software has been designed keeping in mind the nature of professional vocations.
The built-in code editor makes teaching and learning of programming languages online simple.
Imitate physical classroom environment using the interactive whiteboard and built-in advanced toolset.
Use diagrams and shapes or upload pictures and videos and annotate in real-time to support technical education.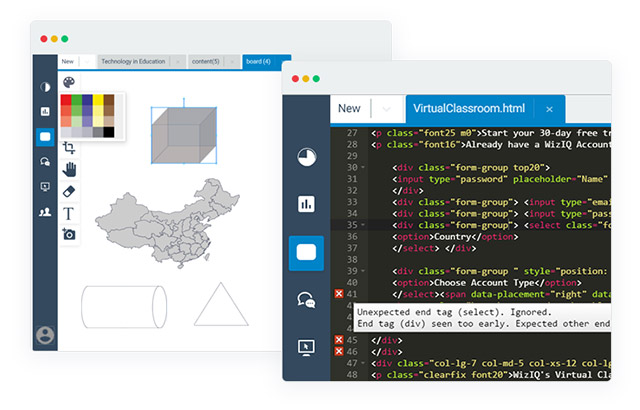 Teaching offbeat courses online is possible
WizIQ allows you to teach anything and everything from one platform.
Teach music technology, vocal training, music history or anything similar.
Teach languages online to students located anywhere.
Deliver public speaking courses and soft skill training online using WizIQ.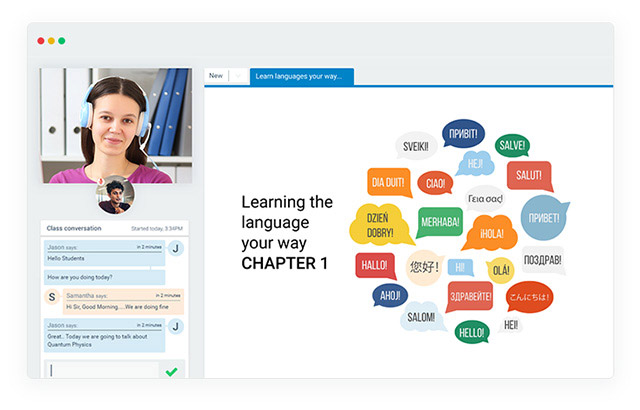 End-to-end learning management from one place
Intertwine all training-related activities into a single tap with WizIQ SaaS LMS Software.
Create different types of courses – self-paced, scheduled, stand-alone, interlinked – from one platform.
Deliver face-to-face instructor-led training online from the same platform.
Ensure participation and collaboration by transferable audio-video, writing controls, live text chats and discussion forums.
Create and give exams online to students to assess their performance.
Collect course fee from the already-integrated secure e-commerce gateway. It supports payment from debit and credit cards, net banking and electronic wallets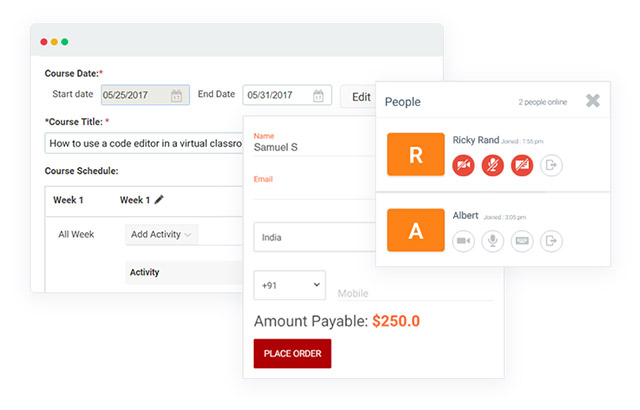 High return on investment is ensured
Use WizIQ for multiple purposes and ensure a high return on investment for each dollar you spend.
Record live classes and share the recordings with the existing and new sets of audiences as reference material.
Use WizIQ as a webinar software to bring guest faculties from across the world to conduct seminars, webinars, and training.
Train technical staff from the same platform on the latest teaching methodologies.
Use the platform for new student outreach in other locations.
No data storage hassles. Almost infinite cloud storage is available to store courses online.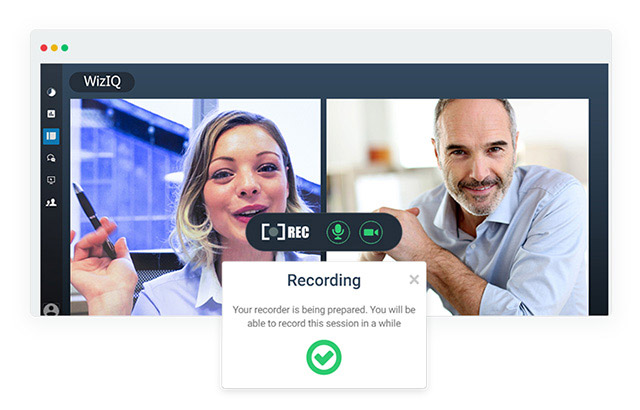 Integrate WizIQ with your LMS or CMS
WizIQ offers excellent flexibility when it comes to customizations and integrations.
Opt for white-labeling to make WizIQ your own and give it your institute's branding.
Use our virtual classroom plugin to integrate it with your institute's website and deliver training.
Integrate WizIQ with your existing LMS, including Moodle, eFront, Joomla, Wordpress and Drupal.
Integrate WizIQ with your Content Management System (CMS) including WordPress, Drupal, and Joomla.