WizIQ webinar platform allows you to conduct branded webinars and achieve your business goals
Saas platform
Go live within minutes with bare minimum IT infrastructure.
Plan, present and analyze
Create, schedule, launch and evaluate your webinar from a single platform.
Secure video streaming
End-to-end encrypted multi-bitrate video streaming even in public events.
Server-side recording
Records your entire event without using the uploading speed of your and attendees' devices.
Built-in forms
Comes with built-in signup, email invitation, and feedback forms.
Subscription-based pricing
Available different pricing plans and co-branding and white-labeling options.
Why use Webinar Services?
Reach audiences from far and wide at a fraction of the cost incurred on traditional outreach events and conferences with webinar services.
It is true for all kinds of organizations. Educational institutions can host live online student recruitment programs, live university tours, experts-speak events. You can reach not just hundreds but thousands of remote students without lengthy setup and registration process. As a business, you can conduct online webinars to increase brand awareness, educate customers, promote products or simply connect with remote customers.
Webinars allow for personalization of your marketing events
Tailoring traditional marketing events, such as conferences, road shows and educational seminars for a large audience seems impossible, given the time, resources and finances required. Webinars come as a more feasible way to establish the social and emotional connect with your audience. Content can be tailored. The frequency of events can be increased. Even the remotely-located audience can be invited. The networking is easier and faster.
And, the cost is reduced dramatically. Be it a student outreach program or a product launch, a webinar software ensures a better return for your event – geographically, socially and financially.
How does your webinar software selection matter?
Your webinar software is the backbone of your marketing events. While planning a webinar can be time-consuming, delivering it shouldn't be difficult. What goes behind the scenes is a different story, you have to get it right in front of your audience. And to ensure a smooth experience, the first thing you need to do is invest in a great webinar software platform. Your technology can make or break your event.
How to conduct a webinar?
A webinar is a seminar conducted over the internet. By using the right webinar software that supports virtual interaction with people, the instructor can, through the webinar, be in touch with a specific audience. The audience may range from employees, partners, customers, media persons among others. Without spending extra time, effort, and money, the instructor will be able to convene a face-to-face interaction with his/her viewers. Through the webinar software, it is convenient to communicate with a group of people from any location at any given time.
Planning for the webinar's success is essential. The instructor must be prepared with the topic, content to present, the date and time for the webinar. Once the instructor is ready, he/she may send invites and launch webinar in minutes.
Why WizIQ webinar platform?
WizIQ webinar solution fits the bill because of its ease of use and the number of features it offers. You aim to reach the masses when you plan a webinar. And when you're actually live, you cannot afford to be seen struggling with the technology.
It has virtual classroom to present a live, interactive event.
It is cloud-based, eliminating all infrastructure-related hassles. You can store the content in the integrated cloud storage and access it just when required.
It is mobile-friendly, allowing the convenience of attending a live event from all devices.
WizIQ accommodates up to 2,000 participants at a time.
It doesn't allow advertisements, eliminating all factors leading to disengagement.
Features that make WizIQ a great Webinar solution
Cloud-based
Content storage
Social media sharing
No IT infrastructure needed
Accommodate up to 2,000 attendees
Import, upload, embed content
Live recording
Multi-bitrate video streaming
Transferrable audio, video, writing controls
Built-in webinar enrollment form
Email invitation with custom messages
Polls and surveys
Screen sharing
Built-in analytics
Cobranding
Subscription-based pricing
Built-in feedback form
Become a pro within minutes
Getting started with WizIQ webinar software is easy and a no-brainer. Technology adoption is fast, with almost no user training. Also, the cloud-based platform:
An ideal software for video conferencing and also comes loaded with recording and end-to-end encrypted multi-bitrate video streaming.
Allows you to have a remotely-located co-presenter without any hassles.
Comes with a built-in webinar enrollment/signup form and social sharing buttons for promotion.
Offers email support, allowing you to send email invitations to participants.
Has built-in 'Add to Calendar' capability to update the event in your Outlook and Google calendars.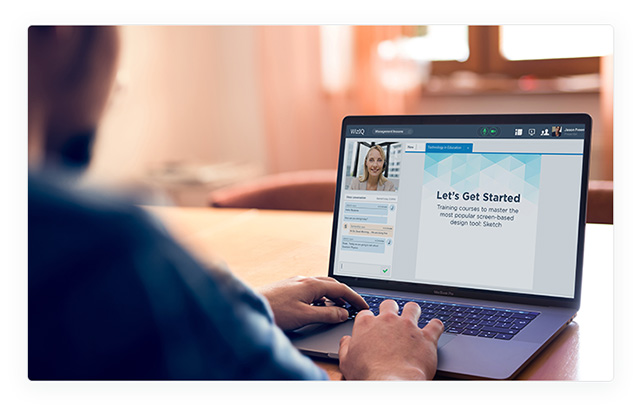 Create a webinar in just minutes
It takes only a few minutes to create and host a webinar with WizIQ.
Simply fill in the details in the pre-structured form on the webinar platform after logging in.
Choose to keep the session public to be able to reach more people.
Add topics, just like tags, to make your webinar searchable on search engines.
Schedule the webinar to generate a shareable link to invite attendees.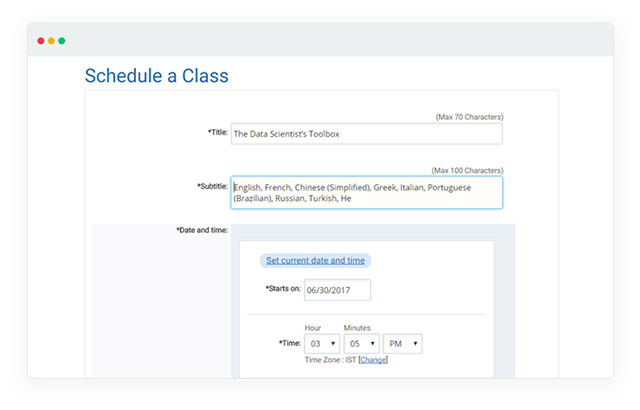 Get the word out with minimal effort and cost
Promoting your webinar becomes simple with WizIQ. Right after you schedule your event to generate a dedicated shareable URL.
Embed it in your posts or any other marketing communication.
Share it on social channels, including Facebook, Twitter, Google⁺ and LinkedIn with just a single click.
Add your event to your Google or Microsoft Outlook calendar or both.
Send email invites with a custom message to your existing user base by ticking on the names in your address book.
Copy and paste it wherever you want to, for instance, your email signature, forums, website, or any other platform.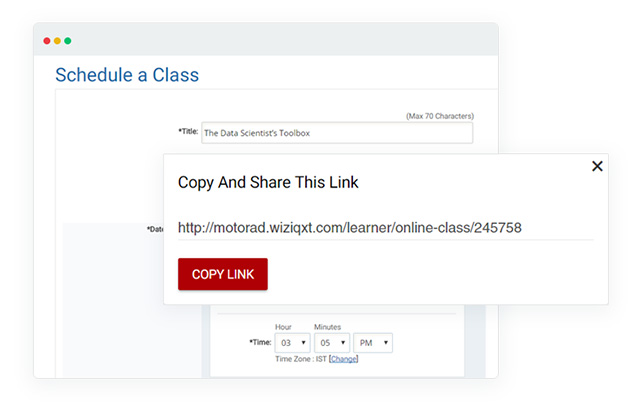 Check for system readiness for a webinar session
WizIQ makes it possible for you to check whether your system and devices fulfill technical requirements to deliver a live webinar. From within the platform, test:
The system configuration and its compatibility with the browser, operating system, and port settings.
The internet connection speed if it meets the minimum bandwidth requirements for only audio, audio plus screen sharing, and live video watching, video only and video plus all other features.
For screen sharing so that you're able to explain something by sharing your system screen with the audience.
The audio, video devices of your system or the connected devices.
Manage all related activities from within the platform
No separate tools required to manage webinar-related activities. From within the webinar platform, you can:
Manage webinar invites and attendee permissions. Allow or disallow attendees to view or download webinar recording.
Check the name and number of invitees who have accepted the invitation to join the webinar.
Manage recording and class settings and edit settings depending on your requirements.
Use the built-in enrolment form capturing the name, email ID, phone and location of the attendees.
See the comments and feedback given by registered attendees regarding the webinar and gain insights into your event's performance.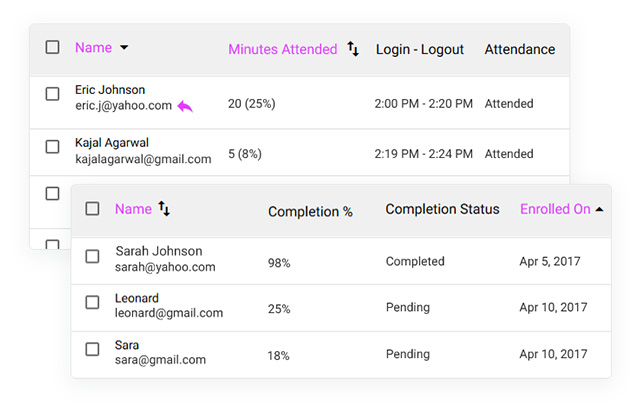 Run flawless and interactive webinars
Tell your brand story live in a hassle-free manner whether you're a startup or an established business. While the technology works in the background, you can deliver a pitch-perfect webinar using as many content resources.
Allow your audience to attend your live event from anywhere on any device via any browser.
Use whiteboard as a workspace and explain concepts or ideas exactly the way you'd have done in a physical setup.
Give attendees the flexibility and opportunity to contribute to the webinar or ask queries by transferring audio, video and writing controls.
Run polls and surveys to gather insights, opinions, and feedback from the attendees.
Record your webinar and reuse it for marketing and internal training purposes.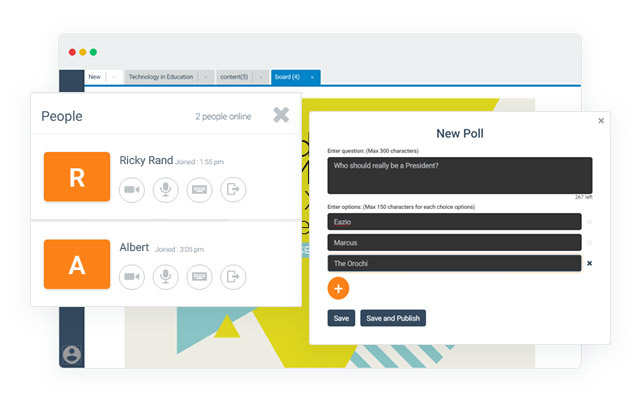 Make useful predictions after a webinar is over
The actual work starts after a webinar is over. Analyze, derive predictions and follow up with the attendees.
View and export automated attendance report and gain insights into participants' engagement.
Learn about participants' opinions by going to the comments sections and improve your future performances.
Keep a track of the number of views and downloads of webinar recording to understand the audience interest in your event and products.
Derive predictions basis these reports and segregate your audience into workable and non-workable leads.