Bring your Training and Development (T&D) program online to provide a flexible and convenient learning alternative to your employees
Save Costs
Reduce time and travel costs, do away with expenditure on hotel stays and unnecessary stationery costs.
Reach Out to All Employees
Reach out to remotely located employees with ease and enable them to complete their T&D courses at any time, from any where, online.
Employ Robust Technology
Scale-up your training activities with our cloud-based setup and ensure seamless audio-video conferencing with our WebRTC Virtual Classroom.
Build Dynamic Training Modules & Get Insights
Add videos, PPTs, PDFs and excel sheets in one training module for impactful learning with insights derived from assessments and course-related reports.
Enable Mobile Learning
Give employees access to training modules on Android and iOS phones which will ensure higher completion rate of training modules.
Brand WizIQ LMS as your own
Change the logo, favicon image and customize URL according to your branding guidelines.
What is employee training and development?
Employee Training is defined as a program or a series of focused intervention sessions on various topics to help employees enhance performance in their ongoing roles. In Employee Development, the organization is responsible for the growth and future performance of the employee.
The world is changing fast, and with it, our methods to cope and work efficiently under these circumstances are undergoing constant updates. The impact of having an employee training management system in place is vital to the company's reputation and profile, and upgrades knowledge and skills of present employees.
Why is having an employee training process essential?
Efficient employee training process has a positive impact on different metrics within the organization which, if put together, makes for an outstanding place of employment. An employee training process is vital as it
Develops and strengthens different skills sets of employees
Presents an opportunity for career advancement in the organization
Promotes consistency in overall employee experience and quality
Helps organization in succession planning where star employees are coached as future leaders
Implements and communicates risk management policies, compliance, ethics to employees- promoting a robust organizational culture
Makes employees future ready and helps them cope with globalization and rapid changes in the company
Benefits of employee training and development programs
Formulating a training and development strategy is a focused activity, with T&D calendars being prepared as much as a year in advance. T&D goals are aligned with the goals of the organization and implementation has subtle yet measurable impacts which indicate an organization's health. Here are some benefits of employee training and development programs:
Reducing employee attrition rate
Retaining employees for longer
Increasing employee satisfaction
Improving performance of the employee by upgrading skills
Acclimatizing employees to culture, risk management, and compliance policies
Boosting employee confidence in delivery of KRAs despite ongoing changes which impact their work
Encouraging growth of employees which, in turn, generates a favorable environment for the company
Why should you train your employees online?
Moving your traditional training set-up to an online employee training system is an activity worth investing in. This will empower your organization to
Save time in creating modules each time you train by using the online library to access courses and modify them in minutes
Control miscellaneous expenses (food, lodging, stationery) which were necessary for the traditional training set-up
Store all course content online which will ease access and update process
Connect with employees around the globe
Expect a faster turnaround time after assessments to analyze reports and measure outcomes
Get more from the online platform by adding exit surveys, training feedback, and professional development program content
Be in sync with a majority of employees and the new generation of users who are more comfortable with using technology
Reduce carbon footprint in a world which is battling to protect the environment
Deploy a productive online employee training system with WizIQ
WebRTC Virtual Classroom
Real-time communication and collaboration
Online Course Builder
Tests and assessments
Polls and surveys
Reports and analytics
Comprehensive rule setting guidelines
Server-side recording
APIs and plugins
Collaborative code editor
Conduct live training sessions
Right from the employee onboarding to employee training and development you can utilize the WizIQ employee training management system to organize face-to-face interactions with your remotely located employees by
Streaming live HD videos, sharing live class recordings to action your training module
Using the chat and discussions features for engaging attendees
Stimulating learning by using the Whiteboard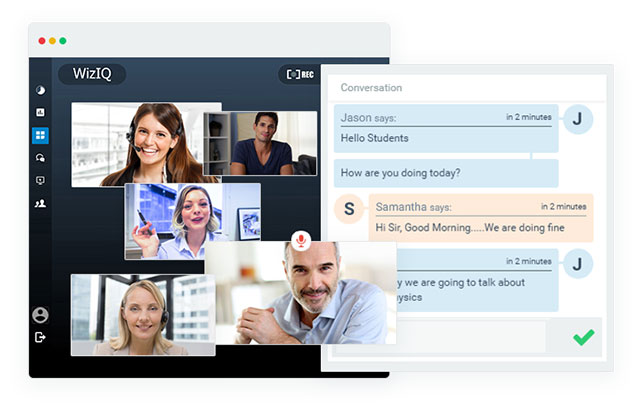 Create employee training modules
You can build interactive content and conduct seamless training sessions for your employees by utilizing these attributes of the course builder
Create your online employee training module by uploading your training content in the built-in Content Library
Make your training modules self-paced or scheduled
Upload files in multiple formats, such as documents (PDF, .DOC, .DOCX, .RTF, .XLS, .XSLX, .PPT, .PPTX, .PPS, .PPSX) Flash (SWF, FLV) Audio (.WAV, .WMA, .MP3) and Video (.MP4, .MOV, .AVI, .MPEG, .WMV)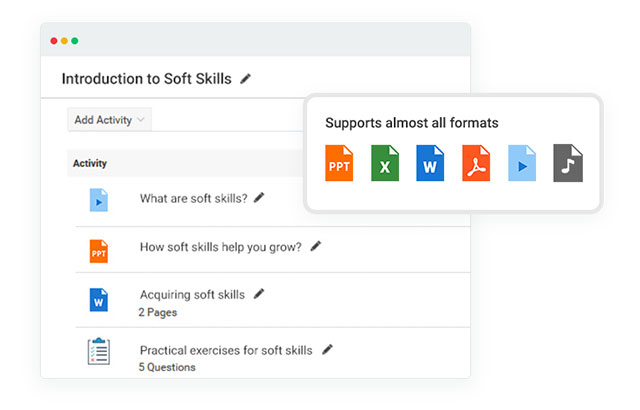 Personalize employee training and development program
The advantage of having an online employee training module is that you will be able to customize course and tests without too much effort
Tweak available content in no time to create a personalized training module for a specific skill
Create different courses depending on employee role or department
Create customized assessments for testing knowledge gained from the training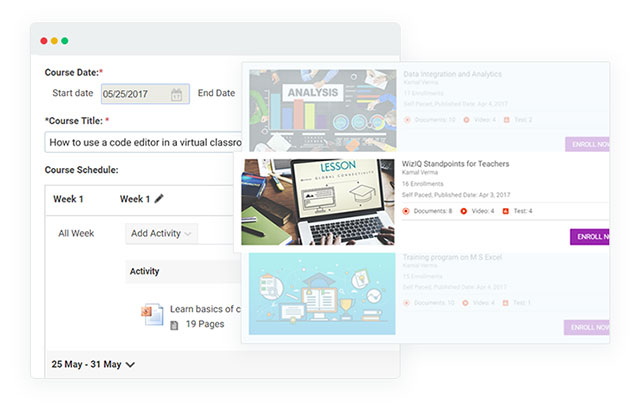 Connect the dots with the Reports and Analytics feature
Measure your employee training process effectiveness by downloading automated reports which will allow you to access information such as
Class performance post the training session
Reports on employees who are falling back to enable corrective measures
Insights through reports and feedback prompting updates or review of training module
Downloadable CSV reports with names of the attendees, time spent in the class and downloads by the employees (if any)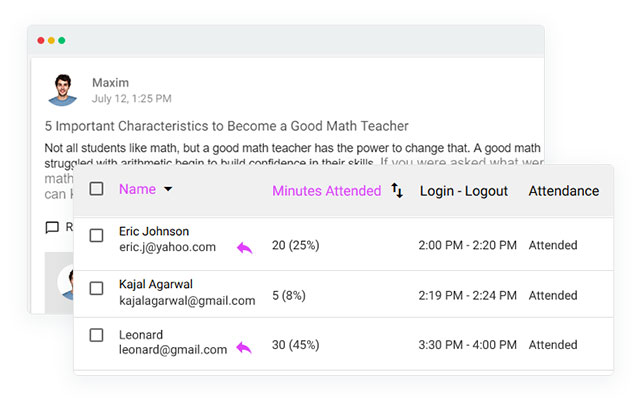 Brand your training and development academy
Make the online employee training management system look like it belongs to your organization! You can white-label your online training academy with the following:
Brand logo, brand color theme
Custom email notifications template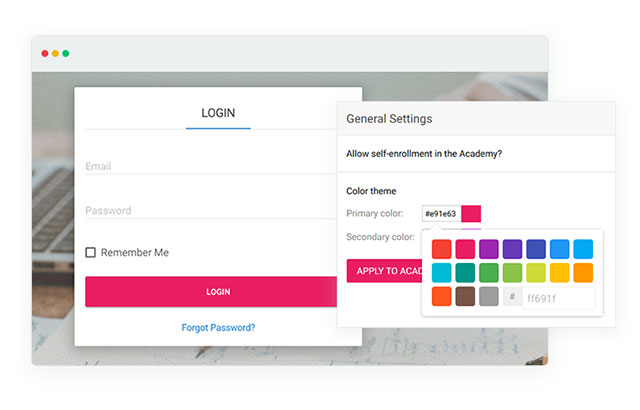 Integrate your online employee training management system effortlessly with APIs and Plugins
The WizIQ API and plugins can be integrated to your existing online employee training system as per your needs. These can be set up in a few minutes and you can
Use the complete API linking your company's CMS/ LMS with WizIQ Virtual Classroom
Connect your platform with plugins for Moodle, eFront, Joomla, Wordpress and Drupal
Get a Single Sign-On (SSO) facility, enabling employees to log onto their LMS/CMS only once to access the Virtual Classroom