Save time, cost and efforts by conducting your corporate training programs online with our affordable and scalable online training platform
Quick setup
Access WizIQ from any internet browser – no need to download any software or plugins like Flash or Java.
Virtual Classroom
Create an engaging learning experience with real-time audio-video communication and instant messaging
Online course builder
Store your training content and turn it into scheduled courses with multimedia assets
Evaluate your course
Monitor participation and assess performance of your trainees through advanced analytics
Mobile learning
Ensure easy accessibility with our iOS and Android mobile app for trainees
eLearning tools
Employ tools and features in your training sessions like interactive whiteboards, polling, screen sharing and breakout rooms
Conduct your training online for a higher ROI
With the rise of a tech-savvy generation, eLearning is gaining momentum. The perpetual time scarcity, the advent of multi-national companies and today's global workforce are few other factors that call for a flexible and cost-effective way of knowledge transfer using an LMS Software.
These factors are driving the search for affordable and effective training software, irrespective of the type of training service you provide – whether you are a corporate wanting to build training programs internally, or you are a training institute looking to sell training courses to corporates. Even, several institutes use vocational training software to offer professional courses online.
With an online training software, it has now become possible to train the entire workforce, customers, channel partners, vendors and other stakeholders online. Here are some benefits of using an online training software:
Ensures 24/7 accessibility of training course content
Offers flexibility to enroll and finish the self-paced training courses
Saves travel time of your trainees
Easy to use without requiring software or plugin downloads
Saves the overall cost of training with no expenses on infrastructure and rentals and the option to re-use recorded content
Offers global reach with the internet as a medium and features such as multilingual support and screen sharing
Easy logistics and minimal hardware requirement
Scalable storage, learning management system and analytics to track your training sessions
How to select an online training software?
The usability, accessibility and performance of your online training software decide the success of your corporate training program. Few of the major factors to consider in selecting an online training platform are the quality of audio-video communication, cost, speed and scalability of the platform. Here are some of the key points which will help you in making the decision:
Easy accessibility
Quick to set up
Customization
Data security
Multilingual support
Evaluation
Reports and Analytics
Scalability
What entails training and how can WizIQ help?
Every training session is unique, and there is no general recipe to seal its success. What you can do before starting that session is making sure that all the chips fall in the right place. Let's take a look at how WizIQ online training software can help you in different types of corporate training programs:
B2B training
This type of training is conducted by B2B training institutes selling to corporates. Companies look for an affordable and scalable online training software when they go for a third-party training provider. The scale and cost of their training exercise should be met with equally efficient resources.
Provide a cost-effective online training platform
Customize the white-labelled online platforms and get a branded interface
Provide custom URLs to your trainees
Offer easy accessibility without the need to download any software
Make your online training platform accessible via mobile app
Scale up to 500+ trainees and offer learning management system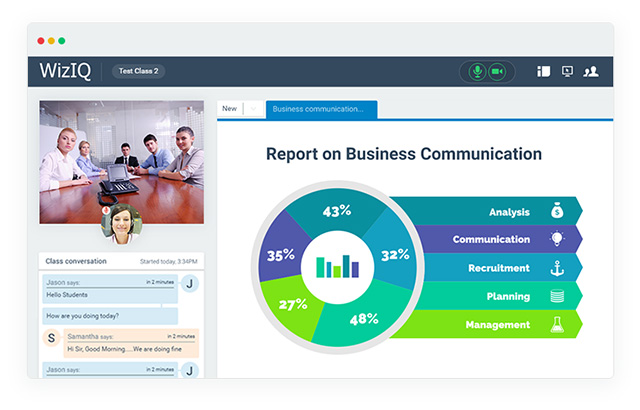 B2C training
This training is conducted by B2C training institutes selling to professionals looking to upskill themselves for professional growth. These institutes require low-cost training delivery solutions which offer the basic eLearning tools and features like whiteboard, class analytics, breakout rooms and content format compatibility.
Offer affordable and high-quality video streaming with Virtual Classroom
Integrate with other LMSs with Virtual Classroom plugin
Offer global reach and multilingual support
Provide comprehensive training delivery solutions with secure data storage, insights, test and assessments, breakout rooms and interactive whiteboard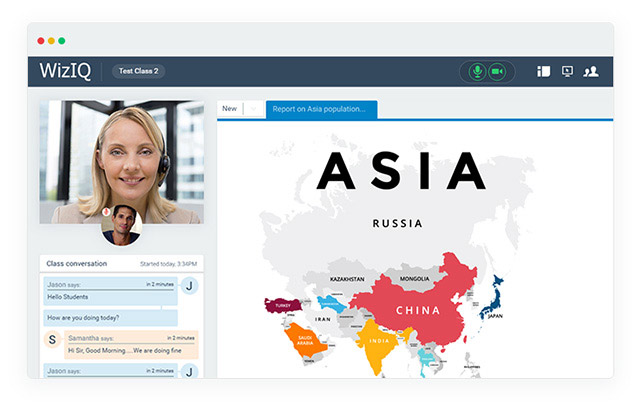 Employee training
It is crucial for an organization to keep up with the ever-evolving business space and train their employees for sustainable development. Engaging and productive training programs help the employees grow with the company. Having a perfect online training delivery software is a must to train employee.
Default self-paced induction courses for employee on-boarding and off-boarding could save a lot of time
Product or customer service training could be conducted with WizIQ Virtual Classroom across geographies in real-time. The sessions could be recorded for re-runs.
Trainers can mentor employees remotely during an off-the-job training exercise and provide training-related lectures and conferences to trainees located in different places
Technical training could be either given as real-time and instructor-led or as self-paced courses so that employees have the flexibility of time
Self-paced courses could be designed and delivered step-by-step for a Job Instructional Technique (JIT) training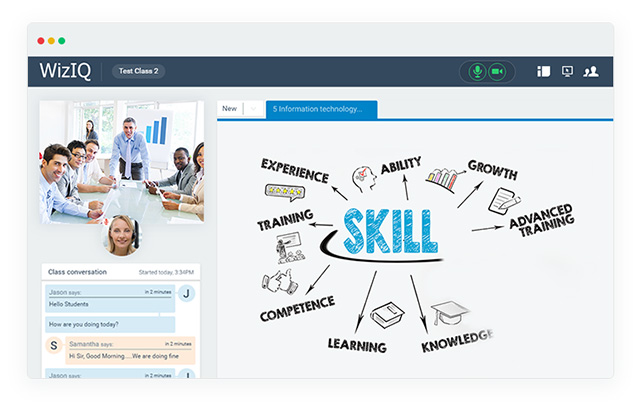 Extended enterprise training
Vendors, distributors, channel partners, resellers, franchise owners, suppliers, channel partners and sales agents are a part of the extended enterprise of a company. They can be trained using a partner training software when a new product or service is launched or a new feature or update in the original product or service has come in.
Conduct real-time training with Virtual Classroom for your vendors and partners
Sales agents in different locations could be collectively trained with our online training software
If a new partner, vendor or agent is being made a part of the enterprise, he/she can be provided with default self-paced courses or recorded sessions of previous training programs
On-the-job training methods like coaching and mentoring could be replicated online to train vendors and partners
Soft skills training programs for communication and behavioral skills could be made interactive with features such as polling, break-out rooms, interactive whiteboard and media player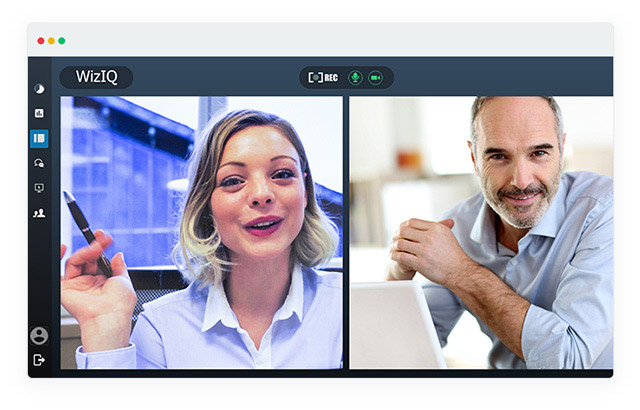 Customer training
Companies need to provide training to customers when they are launching a new product/service to make them aware of the launch. It's an important step in bringing customers on board or retaining the existing customers. An effective customer training software could make your product or service more appealing to customers.
Conduct marketing webinars with webinar hosting capabilities
Service based companies could give a comprehensive understanding of their offering with multimedia training programs
Use interactive whiteboards, multimedia assets and training activities to increase brand recall and customer retention
eLearning tools could be employed to design management games, role playing or In-basket training programs
In the event of a new update to service or product upgrade, let your customers know all about it in real-time with product tutorials and demo videos