WizIQ allows you to plan, promote, deliver and monitor your webinars from one place.
Easy integration
Integrate WizIQ webinar hosting software easily with your website, CMS or LMS and go live within minutes.
Plan and promote webinars
Schedule and promote webinars from one place. Send invites and track enrolments.
Host webinars
Host private or public webinars and accommodate up to 2,000 attendees in one event.
Server-side recording
Record your live webinars and make the recording available to everyone within minutes after the session.
Webinar Analytics
Access reports and dive deeper into data to predict engagement, trends and behaviors.
Mobile apps
Deliver webinars on portable devices via native mobile apps for Android and iOS.
WizIQ is a powerful yet simple platform to host webinar
Webinars have a potential to become your primary customer outreach and acquisition channel. If planned and delivered strategically, webinars can accelerate your lead generation campaign and move prospective customers through the sales funnel, eventually increasing your sales revenue. However, this is possible only if you're able to engage your target audience. Of course, the content is the most valuable resource, but it's your webinar hosting technology that shapes the entire experience.
Your audience would not like to engage if it is difficult to attend your event. Also, conducting webinars is a lot of work for you – at all stages – before, during and after. Struggling with the technology at this juncture is like taking a step towards failure. Therefore, it all boils down to the ease of using a webinar hosting platform – on both ends – you and your audience. And, you need a fully-integrated technology that blends seamlessly with your marketing and digital infrastructure and can get you started immediately. WizIQ – cloud-based software is the best choice for hosting free webinars with recording. It's feature-packed, ready-to-be-used and supports everything you need to conduct a webinar.
WizIQ webinar hosting software features:
Cloud-based
No IT infrastructure needed
Accommodate up to 2,000 attendees
Import, upload, embed content
Live recording
Multi bitrate video streaming
6-way video streaming
Customized webinar invitations
Polls and surveys
Screen sharing
Built-in analytics
Custom branded
Subscription-based pricing
WizIQ webinar hosting software offers you everything you need to plan and deliver a webinar.
Hosting a webinar is now easy
It takes only a few minutes to host a webinar with WizIQ. Our free webinar hosting with recording software is ready-to-be-used as a stand-alone app as well as a plugin for the existing website.
WizIQ assimilates well with your existing IT and marketing infrastructure, saving you the cost of an additional marketing channel.
Accommodate up to 2,000 attendees in one single event.
Custom brand your platform for webinars. Pay a little extra and revamp its look and feel.
The subscription-based plans allow you to scale up your operations as and when required.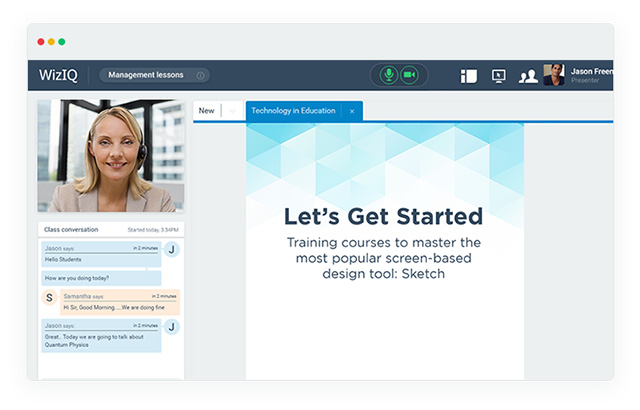 Plan and promote your webinar
The WizIQ webinar hosting platform allows you to automate tasks related to planning and promotion of your webinars.
Schedule your webinar with WizIQ and get a dedicated web page and URL link with a "join in advance" feature.
Send customized email invitations to your audience from WizIQ.
Integrate custom-designed registration page and collect useful information from attendees.
Automate email reminders to invitees while you focus on more important tasks.
Receive an updated count of webinar attendees as and when new people register.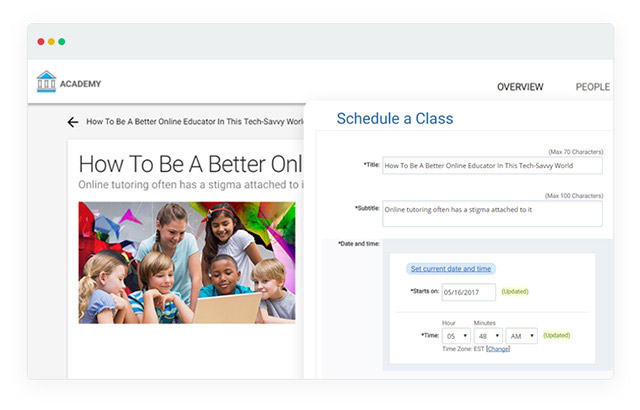 Host a successful webinar
WizIQ provides you with all the tools and features required to run engaging webinars of all types – awareness, product launches, group collaboration, lead generation, customer training and customer retention.
Connect face-to-face with attendees in real-time despite geographical remoteness.
Engage webinar attendees with different types of content – videos, presentations, research papers, animations.
Drive engagement using built-in features, such as interactive whiteboard, screen sharing, live chat.
Conduct polls and surveys to know the opinions, preferences, and feedback of your audiences.
Take down the minutes of meetings on a whiteboard screen to reinforce at the end of the session.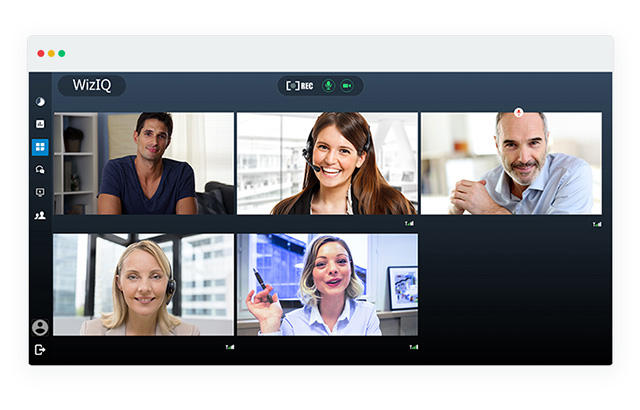 Leverage your webinar
Make the most of your webinar even after it is over. Understand the attendee behavior and work around your sales funnel.
Share recorded webinars and attendee statistics with your team, giving them a base to dive deeper into customer requirements and service gaps.
Export detailed report to view attendee statistics and derive useful trends, behaviors, predictions.
Plan and host a free webinar with WizIQ to move your prospects up in the sales funnel.
Identify the hot leads and handover them to your sales team.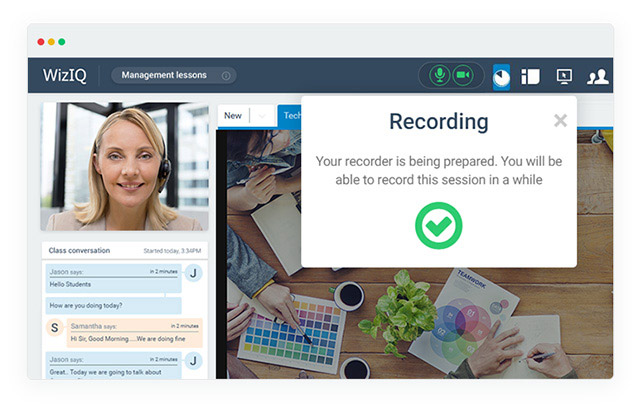 Make the most of your webinar hosting platform
WizIQ not only blends well with your marketing infrastructure rather it works around your overall business goals. The comprehensive webinar software can be used for:
Recruitment purposes. Conduct online face-to-face interviews with potential candidates and assess their professional competencies on the spot.
Partner collaboration. Collaborate with your partners, distributors, agents and suppliers online.
Onbording and training. Conduct live training sessions for employee onboarding and training.
Experts speak. Hold live events from industry experts to establish yourself as a thought leader.