Power up customer training to drive product adoption, grow revenue and decrease customer churn with WizIQ. Maximize outcomes with our full-featured, brand able customer training software.
Build training courses
Use course builder suite to create online training courses for live and self-paced consumption.
Deliver and monitor learning
Schedule and deliver training workshops, and monitor and measure learning from one platform.
Create certifications
Offer free or paid certification courses to your customers around your software products and their implementation.
Integrate with your LMS
Integrate WizIQ with your website, CMS or LMS as it fits perfectly with your existing systems.
Train on any device
Deliver training across platforms and operating systems, including desktop, Android and iOS.
Maintain your brand identity
Opt for white-labeling to maintain a strong brand identity and voice even on your learning portal.
Build a successful customer training center with WizIQ
Whether you want to start a software training business or educate your customers to increase their success on your products, WizIQ fits the bill. You can:
Deliver eLearning via self-paced video tutorials
Building, launching and monitoring video-based courses become easy with WizIQ's built-in course authoring and course management suites. You can create fully-branded video tutorials enabling your customers to access them at anytime, anywhere on any device. Automate training to cut costs and scale rapidly and easily.
Deliver live customer training workshops
Onboard your customers in a hassle-free and intuitive environment. Take them on a personal journey around your product to address their implementation woes and drive adoption. With the built-in HTML5-based webRTC Virtual Classroom, you not only train customers across the globe but you also offer them a tailored onboarding experience.
Build a software training business
Launch paid certification courses to educate and certify your users. Accelerate software adoption. Ensure customer success. Decrease churn. Turn customer training into a profit center. Take advantage of smart tests and certifications for trackable results.
WizIQ features enabling you to create a dedicated, full-featured customer training portal:
Course management
Content library
Instructor-led training
Self-paced training
Reporting and analytics
Polls and surveys
Interactive whiteboard
Screen sharing
Smart tests
Certifications
Cross-browser compatibility
Mobile friendly
Multiple training rooms
Roles and permissions
E-commerce enabled
Server-side recording
Feedback
End-to-end encrypted streaming
Fast-track software implementation
WizIQ is 100% cloud-based, ready to be installed and deployed almost immediately without a full-sized IT infrastructure.
The course management suite helps you rapidly build and structure training courses, reducing the time to market.
The content library takes out the storage hassles, allowing you to upload and access learning material at anytime from anywhere on any device.
The modern, lean and intuitive interface offers ease of navigation, thus, ensuring greater adoption and lesser churn.
WizIQ API allows you to integrate it with your existing CRM, LMS, CMS or website and to maintain consistency in brand voice.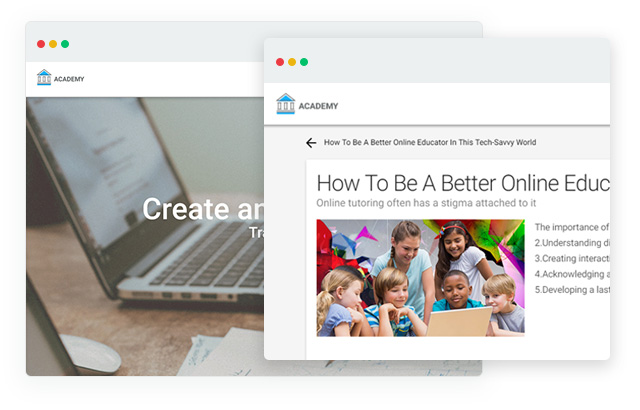 Create and manage multiple courses
While you develop the learning material, WizIQ's built-in course structure takes care of the flow and design.
Jump start course creation as soon as you have the content ready, without getting into the nitty-gritties of design.
Upload learning material to content library to make it easily accessible anywhere anytime.
Create as many courses – self-paced or live, with or without timeline as you want and organize content in different folders.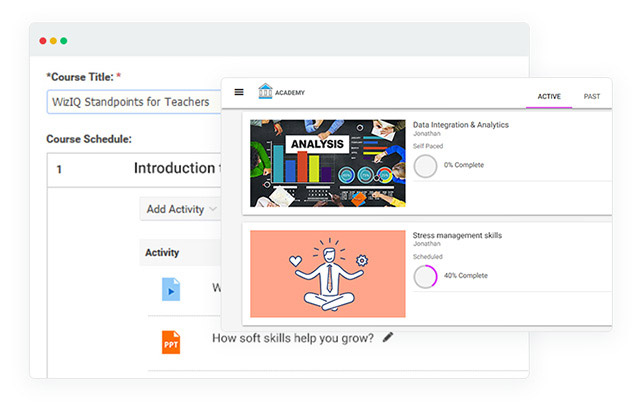 Package training in different formats
WizIQ is your go-to platform with all customer training tools in tact at one place to deliver online training in a format that fits the needs of your audience.
Deliver live instructor-led training (ILT) workshops as and when demand arises or as a regular feature to help customers better use your products. The integrated Virtual Classroom facilitates HD live streaming.
Float self-paced video tutorials – in bite size or long formats to offer on-demand learning to your users.
Upload supplementary education resources – links, recordings or downloadable files.
Offer certification courses to enhance your market reputation and to ensure customer success with your products.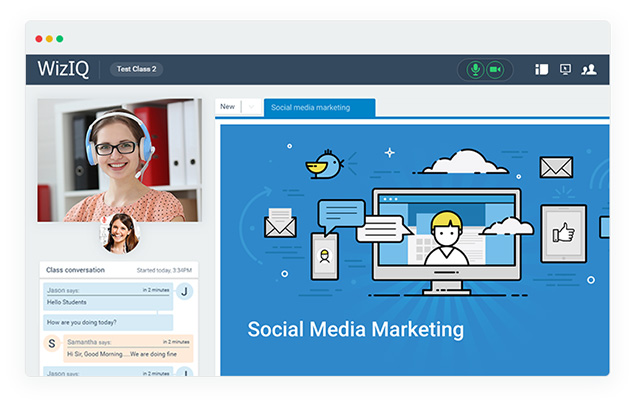 Automate training administration
Focus more on educating customers and accelerating software adoption. Let WizIQ handle the back-end.
Create recurring classes only once and schedule the session when required.
Assign user roles and permissions to create system hierarchy and manage authorization.
Send email invitations, set reminders to coordinate with attendees and receive notifications when a learner joins or quits the session.
Receive reports on content and session recording views and downloads.
Automate attendance monitoring and performance measurement with the built-in reporting system. Simply download the reports to get insights into learner performance.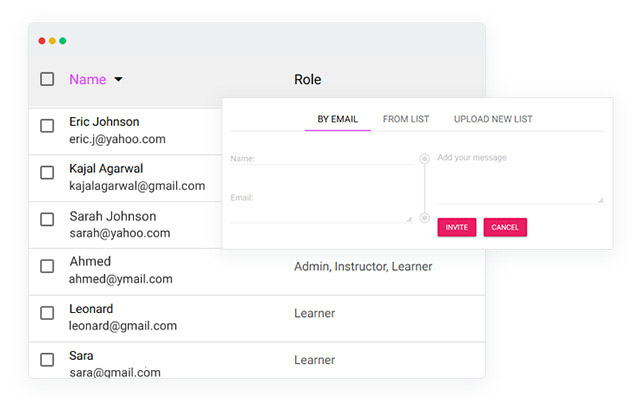 Manage certification
WizIQ offers a complete solution for designing learning paths and awarding certificates on course completion.
Provide a quick overview to your customers allowing them to track their progress.
Make use of smart tests to check their understanding on a particular topic and automate the movement to the next level on passing the exam.
Award downloadable certificates to learners on course completion.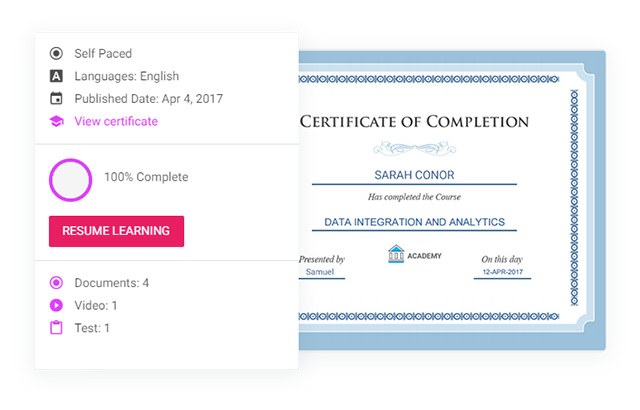 Turn customer training arm into a profit center
Alongside helping customers use your software successfully, WizIQ assists you in turning training into an alternative revenue stream.
Offer 24/7 live software support services to your customers in exchange of a fee.
Offer paid training programs to the employees of your customer organization.
Launch certification programs for anyone who needs to be an expert in using your software platform for gaining particular career opportunities.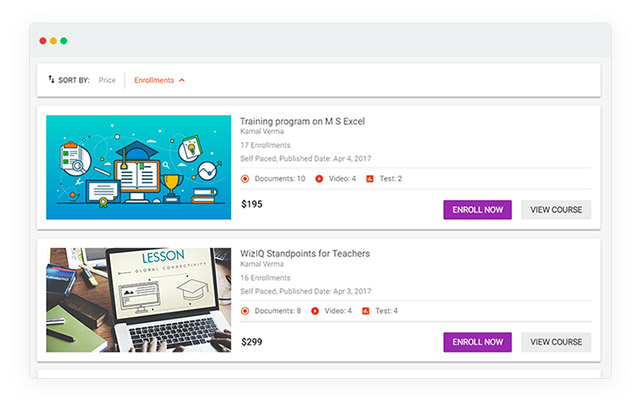 Collect payment online
The integrated SSL encrypted e-commerce gateway allows users to make payments online in a secure manner.
Accept payments via iPay, NetBanking, PayPal, CCAvenue, WellsFargo, Authorize.Net, and debit and credit cards.
Support payment in all currencies allowing international learners to enroll in your software training courses.
Scale training operations easily
The 100% cloud and fully-integrated customer training software allows you to scale your operations rapidly. That's the USP of WizIQ.
Top up your subscription to get more rooms to accommodate more instructors and attendees without changing the base plan.
Move to an advanced subscription plan for more features, storage, personalized training, and white-labeling.
Choose enterprise version to fully customize WizIQ and to get unlimited rooms, storage, tests, learners and dedicated support.