Online course management is an integral part of eLearning. Online teaching with WizIQ course management software gives you everything you need to author and manage online learning courses.
Easy deployment
Easy to set up, launch and manage
Integrated solution
Integrated cloud storage for 24/7 access and scalable storage
Courses of all types
Author courses of all types and enrich them with multimedia content
Assign roles and permissions
Assign roles to participants and decide who can view or download your content.
Upload and stream securely
Upload and stream safely with secure access protocols
Monitor and evaluate
Get insightful class analytics to evaluate the performance of your students or trainees.
Manage your course content effortlessly
Course management system is a software that provides an online interface where educators and training professionals can upload and manage their eLearning content and students and trainees can access it. There is a difference between learning management system and course management system. While a learning management system takes care of end-to-end needs of an online learning session like content upload, management and delivery, the latter acts as a secure place to save and manage your eLearning content. It could be regarded as a subset of learning management system that makes sure your content is stored safely and can be accessed easily.
Keep your online course content in one place for easy accessibility
Save cost and time spent in course content storage with our cloud-base course management software
Integrate your content with your website, share it on your social channels and choose who sees your course content with controlled access
Scale up your storage as the size of your class increases
Divide your course into learning objects and re-use the relevant ones in multiple courses
Offer flexibility of time to your trainees and students with stored courses
Make sure your course management software ticks all the right boxes
A course management software is crucial to ensure the success of your online class but you should select the one which is suitable for the kind of course you are running along with all the required features. What should one do before making the selection? Here are the steps you can follow to make an informed choice:
Research: Talk to the subject matter experts, read detailed reviews, user opinions, suggestions and jot down your needs and expectations
Know what you need: Consider factors such as hardware requirements, cost constraints, size of your class, technical proficiency of your audience, course requirements and the key features you need
Try and buy: Nothing beats trying something to understand its value proposition. Get a free trial and see for yourself
Look to the future: Be wary of the requirements of future when the size of your class increases and choose accordingly
Features you should look for when evaluating course management systems
After getting a sense of what you need, check the options available, run them against what you require and make your choice. Although, course management systems differ in their offerings and features, there are some standard requirements you should be looking for.
Fast and easy upload
Scalable storage
Mobile access
Third party integration
Multimedia upload
File format compatibility
Security and permissions
Multilingual support
Tracking, reporting and evaluation
How WizIQ helps in effective online course management?
The tedious process of online course creation is cut short to few steps with WizIQ course creation software. What else? It's easier than ever now to author courses and manage them online with our extended functionality and comprehensive features.
Quick upload and safe storage
Built on Microsoft Azure's global network of data centers, eLearning cloud storage employed in WizIQ makes for fast and smooth course content upload and sharing.
Fast content upload from anywhere at any time
Upload variety of content formats up to 1 GB
Up to 25 Gb of content storage capacity
Option to integrate your eLearning content from YouTube, Scribd, SlideShare, authorSTREAM
Complete eLearning content management allowing course content from Google Drive, Gmail, Dropbox, Box and OneDrive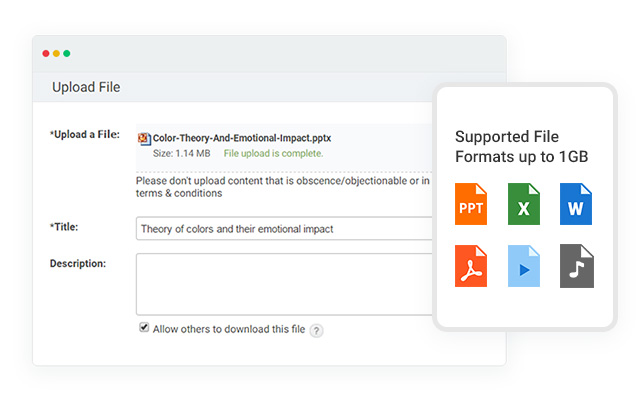 All you need to manage your eLearning course content
After you upload your course content, it is important to make it easy to consume. Segregating your content in learning objects and using these units in relevant course structures can help you save time and efforts.
Categorize your content and create chapters, sections, courses and modules
You can record PowerPoint presentation with audio and video using WizIQ recorder
Move files between folders and edit file details
Control the access of your eLearning content to allow or disallow user access
Build comprehensive online tests to evaluate the progress of your students
Track and monitor the performance of your class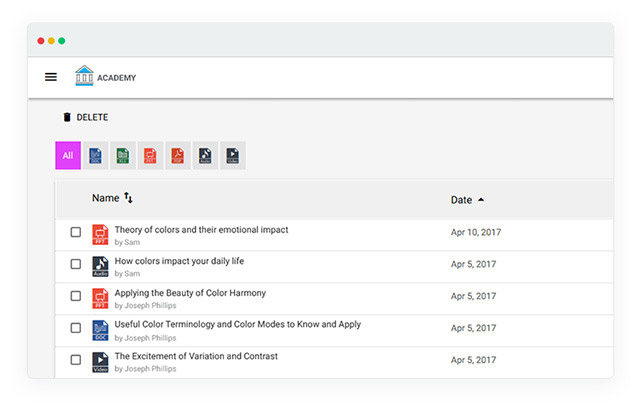 Enhanced accessibility for ease of sharing
The success of your online course depends upon how accessible and shareable it is. WizIQ online course management software gives your users a swift and easy access to your course content.
Import content from content library during your online class
Stream videos with integrated media player
Share custom URLs of your online course via social media and email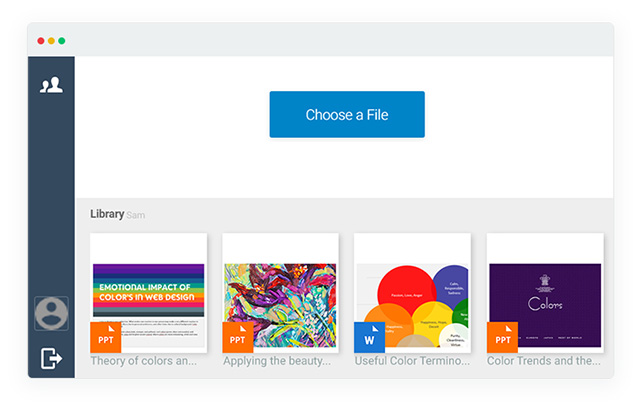 Security at your fingertips
Author courses without worry as WizIQ course management software serves content via https for secure streaming to safeguard your course content from being misused.
Tokenized accessibility for content sharing requires access keys you provide to your learners
To avoid unauthorized access, the location of your video content is not disclosed to users
RTMPTE protocol ensures real-time encryption of video content and safe streaming