WizIQ lets you upload, manage, and share your eLearning course content without the hassle of downloading software or plugins.
Content Library
eLearning content management made easy with our Content Library
Quick integration
Integrate or embed your content with your eLearning course
Multiple formats supported
Upload multimedia content of different formats like documents, audio, video, and pictures
Cloud-based storage
Save costs and scale up with WizIQ's cloud-based content storage
Secure operations
Get assured security and controlled access of your eLearning content
Value-for-money
Save the overall cost-of-ownership by using our eLearning LMS at an affordable price
Organize your online course with eLearning content storage
One of the notable advantages of cloud-based eLearning content storage is that it's easy to set up and maintain. With no additional expenditure on hardware and no need for downloading software, eLearning cloud storage is effortless and cost-effective. Listed below are some of the key benefits of employing eLearning cloud storage:
Minimal expenses in setting up your eLearning course and storing your content result in a low cost-of-ownership
Easy to set up and maintain, your eLearning content can be readily accessed
Learners from across the world can access your eLearning content remotely
The capacity of your eLearning content storage system can be scaled up according to the growing demand of your organization
Cloud-based systems are more reliable than local servers and save your data from mishaps like theft, damage or natural disasters
With advanced security protocols, most of the eLearning content storage options make sure that your data is safely uploaded and securely accessed
Choose WizIQ for simple eLearning content storage and sharing solutions
Every educator or corporate trainer has different needs and preferences, and the choice of eLearning content sharing and management platform is largely contextual. WizIQ offers you a comprehensive array of useful features to manage your eLearning course content.
Easy upload and sharing
Customization
Format compatibility
Data security
Compatibility with devices
Mobile access
Video streaming support
Improved user interface
Dependable storage
With Azure's global cloud infrastructure, our eLearning content sharing and management platform ensures that your files can be stored and shared efficiently.
Upload and access your course content by logging on to your WizIQ account – no plugin or software download required
Upload files up to 1 GB of almost any format securely: Documents (PDF, Doc, Docx, RTF, xls, xlsx, ppt, pptx, pps, ppsx), Flash (swf, flv), Audio (wav, wma, mp3), and Video (mp4, mov, avi, mpeg, wmv)
Store as much eLearning content as you want with unlimited storage capacity
Embed your eLearning content from YouTube, Scribd, SlideShare, authorSTREAM and import it from Google Drive, Gmail, Dropbox, Box and OneDrive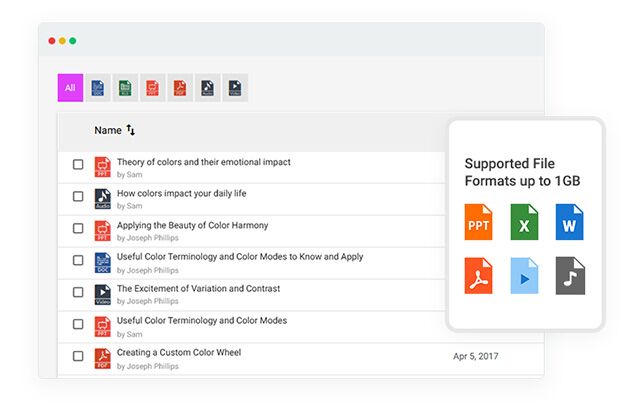 Readily accessible
Enhanced accessibility can do wonders for your online course. Your eLearning content loses its significance if it's not easily available to the learners. WizIQ lets you effectively manage and share your eLearning content.
High-speed video streaming with in-built media player
Easy to pull out content from WizIQ Content Library during live classes
Decide who sees your content by setting permissions
Accessibility on-the-go for learners with WizIQ mobile app for Android and iOS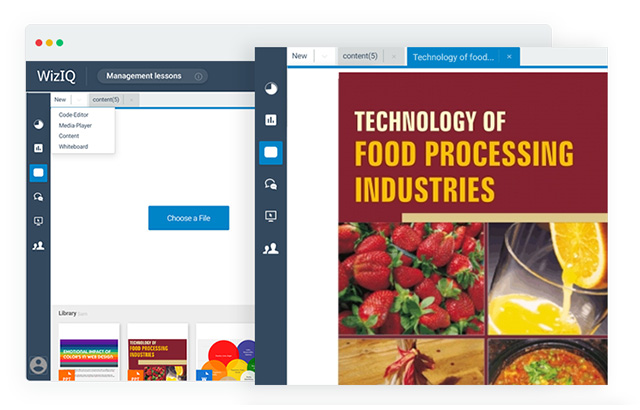 Effortless management
Uploading raw content on a platform isn't going to help you in the long run. WizIQ lets you categorize your course in relevant section in its eLearning CMS for the ease of your learners.
Create sections, chapters, and course modules
Use advanced search to find files according to their formats
Mark useful learning objects as 'favorite'
Organize your content in independent learning objects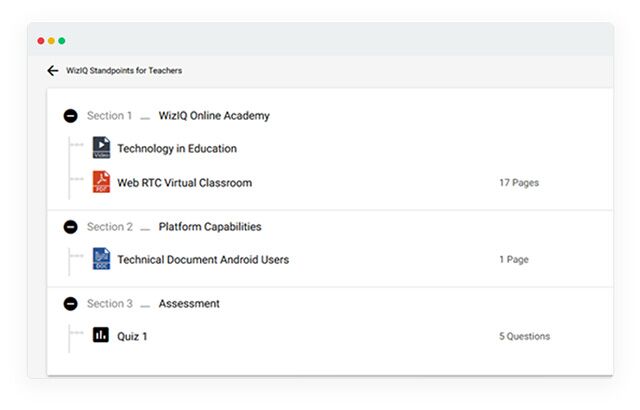 eLearning content security
In WizIQ content management platform, most of the content is served via https for secure streaming. WizIQ makes sure that your data doesn't get in wrong hands.
Access tokens are keys to your content and give you the flexibility to decide who can access your content
During video-sharing, the video file location is not exposed to users to prevent unsanctioned video streaming and repeat access
WizIQ uses RTMPTE security protocol that encrypts your video files in real time to secure your data