With the WizIQ Virtual Classroom and LMS software, you get a superior onboarding tool that not only lets you set up a productive onboarding process but also takes away all the stress associated with the delivery so that you can plan better!
Save cost and time
Save infrastructure, logistics and content production related costs
Deliver live learning
Conduct live, real-time onboarding sessions with WizIQ Virtual Classroom
Get robust analytics
Get access to insightful analytics and measure the effectiveness of your onboarding activities
Assess Progress
Create and conduct online tests based on your onboarding material to increase recall
Go Mobile
Use the WizIQ mobile application for Android and iOS to let your trainees learn on-the-go
Brand your learning portal
Add your brand theme and colors to your online onboarding portal
What are the different types of onboarding?
There are mainly three types of onboarding.
Employee onboarding: To start off with your new employees on the right foot in the organization, employee onboarding is a must-have. In employee onboarding, the employees learn about the organization's values and culture, its code of conduct and a brief about their key responsibilities.
Customer onboarding: Your customer needs to understand your product or service to use it in a stress-free manner. For customer onboarding, organizations create help-guides, product presentations, walkthrough videos, and assign professionals to help onboard the customers.
Partner onboarding: Distributors, resellers, suppliers, franchise owners and other members of your extended enterprise need to be trained on different aspects of your organization. Organizations can train suppliers and manufacturers regarding their best practices, and distributors, resellers and franchise owners regarding the positioning of their product/service, their target customers, their sales pitch, etc.
Optimize your onboarding process with WizIQ's onboarding system
WizIQ is equipped with all the features you will need to set up a comprehensive and effective onboarding process. With flexible course creation capabilities, HD virtual classroom, online test creator, and trainee-related analytics, developing an end-to-end onboarding for your employees, customers and partners is made easy with WizIQ onboarding system. Here are some salient features of WizIQ onboarding software that help you get your stakeholders onboard quickly, increase retention and make them more productive.
WebRTC Virtual Classroom
Live and private chat
Online Course Builder
Tests and assessments
Reports and analytics
Mobile applications
White-labeling
Interactive whiteboard
Server-side recording
5-way audio-video layout
API & plugins
Collaborative code editor
Set up within minutes
WizIQ onboarding software is easy to set up and manage. WizIQ runs on the browser and doesn't require setup download and installation. Log in and you are good to go!
Ensure easy adoption with fast processing, user-friendly interface and intuitive operations
Easily upload and update content in all formats
Offer high-speed audio-video transmission with WizIQ Virtual Classroom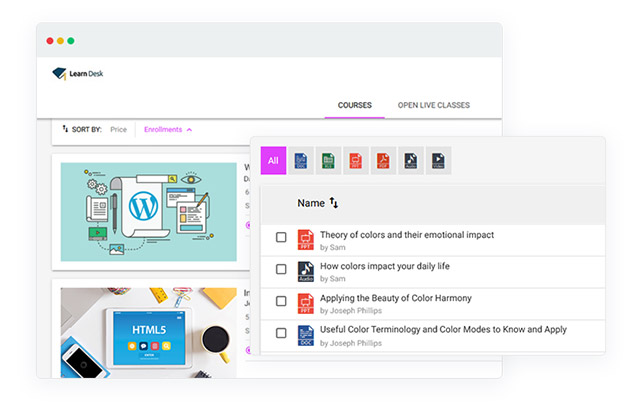 Conduct real-time onboarding with live classes
WizIQ comes with a WebRTC-based HTML5 Virtual Classroom that lets organizations conduct live classes for their onboarding activities
Achieve better results with high-definition, low latency video transmission and echo-free audio
Record your live classes and use them in future onboarding sessions
Employ a host of eLearning tools and features like whiteboard, screen sharing, live chat and integrated content library
Play media files, YouTube videos and upload documents and presentations during live sessions for advanced collaboration
Integrate WizIQ Virtual Classroom API with your organization's existing setup (website, CMS or LMS)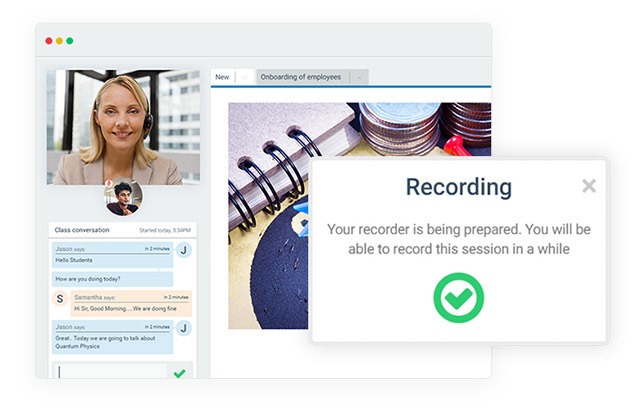 Create online courses for your stakeholders
Organizations can publish self-paced and scheduled onboarding modules complete with recorded sessions and online tests with WizIQ's cloud-based Online Course Builder feature.
Upload content in any format to create interactive onboarding courses
Utilize the built-in structure to create sections and sub-sections in your course
Create self-paced courses like code-of-conduct training, compliance training, etc. to offer flexible learning
Create scheduled, time-bound courses that can be accessed by the users during the onboarding period
Brand your learning portal with your organization's logo and color theme with white-labeling option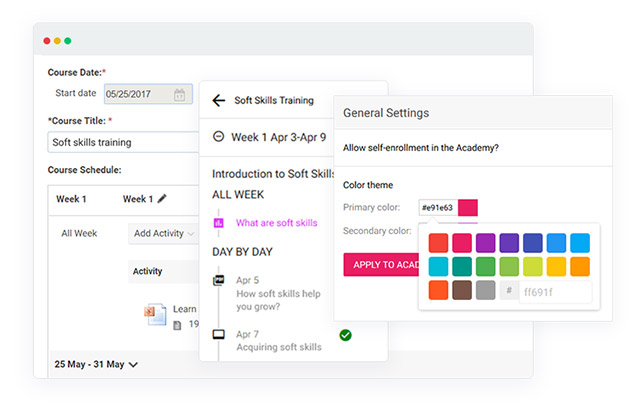 Assess impact with online tests and analytics
Without a proper impact measurement mechanism, it is difficult for organizations to assess the results of their onboarding plan. WizIQ lets you create online tests to check stakeholder's progress and generates automated reports to measure the onboarding plan's impact.
Build your tests easily with multiple types of question formats such as cloze test, multiple choice question test, image-labeling questions and many more
Generate course and trainer-related reports with details like user attendance, time spent in class, course progress, etc. to see what's working
Take corrective actions based on course and trainee-related insights to improve your onboarding content and process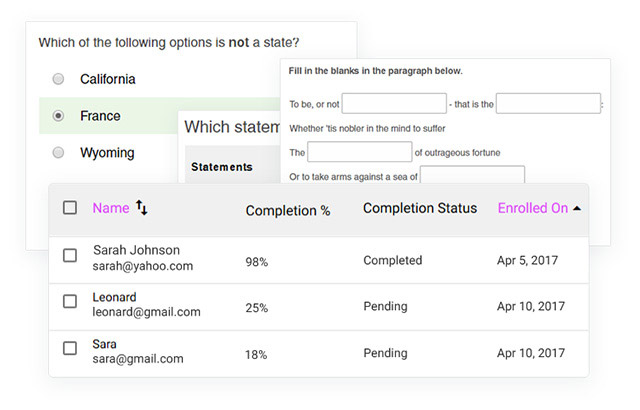 Enable learning on-the-go with mobile learning
WizIQ offers the world's first brand-able mobile applications for Android and iOS. In addition to branding the application with your organization's theme and logo, mobile-led learning makes sure that your onboarding courses are reaching everyone and are accessible anytime and anywhere.
Let your trainees attend live classes and access courses on-the-go
Chat with your trainees and offer real-time assistance
Opt for a custom-branded app to retain your organization's branding