Teach live from your Drupal website with WizIQ Drupal Virtual Classroom module
Deliver live online classes and manage attendees from your website
Deliver live instruction from your Drupal website via WizIQ Drupal virtual classroom module. It integrates so seamlessly with your site that it works like any other built-in functionality. The API highlights are
No separate login credentials: Only one set of login credentials required for your site and WizIQ Virtual Classroom API.
One API for multiple functions: Build courses, enroll users, and create, schedule, launch, deliver and record live classes from one place.
Support for all content formats: Upload, store and share any file including text, Excel, PDF, PPT, image, audio, video, animation.
Built-in whiteboard: No need to integrate third-party whiteboard tool. You can open as many whiteboards as you want during the live session.
Choose from 21 languages: WizIQ Drupal live class module is multi-lingual. You can choose the language of the interface from among 21 languages.
Deliver branded classes: Add your logo to the Virtual Classroom on Drupal to give a personal touch and build your brand.
Deliver live class from your website via WizIQ Drupal Virtual Classroom module
Powering the world's largest and most complex websites, Drupal is one of the most preferred content management systems among marketers and developers. It is the ease and extent of customizing even the complex sites that makes Drupal popular. The sheer number of available modules, advanced control over URLs, HTML elements and meta tags, built-in user management capabilities with custom access levels and hierarchical categories for different content types without having to code, make it the right choice for enterprise-levelprojects. Also, the default mobile first, responsive design and multi-lingual capabilities account for Drupal's popularity.
Though Drupal already has most of the capabilities built-in, it is extremely flexible with the customizations. If you're looking to turn your Drupal CMS in an eLearning platform,it would neither take you long nor cost you a fortune. A premium virtual classroom module will help you deliver live classes from your website. However, which module to buy deserves serious thought.
What to look for in a Drupal live class module?
Below are some important factors you should consider when choosing a live class module for your Drupal site:
It must support the Drupal version and theme you're using.
The module should be easy to integrate and use, complementing Drupal.
The module you choose should be all-inclusive, allowing you to perform all eLearning-related functions from one place without having to code.
Drupal is mobile-friendly by design, which automatically sets a prerequisite for a live class module to work well with all screen sizes and devices.
It's the flawless user management and access control functionality which makes Drupal stand out from the rest. A virtual classroom module is expected to augment this.
Why is WizIQ Drupal Virtual Classroom module the best choice?
WizIQ Drupal Virtual Classroom module perfectly complements the Drupal functionality, be it user management, mobile-friendliness, support for different content types, ease-of-use or control over documentation and organization. Also, it fulfills all the above criteria and is easy on your pocket. WizIQ Drupal module for the live class is fully-integrated, allowing you to perform all teaching-related planning, scheduling, reporting, and management. This ensures an excellent experience for both instructors and learners.
WizIQ Drupal module features that make live online teaching and learning hassle-free
Integrated content library
Interactive whiteboard
Single sign-on
HD audio-video
Recurring classes
Live chat
Breakout room
Polls and surveys
Screen sharing
Built-in media player
Screen sharing
Attendance notification
Support for all formats of documents
Instructor-managed permission controls
Multi-bitrate video streaming
Dive deeper into WizIQ's module for Drupal live class
Convert your Drupal CMS into an eLearning delivery platform within minutes
WizIQ Drupal module incorporates all three components of eLearning delivery– class creation, learning delivery, and learning measurement without having to code.
Create one-time or recurring classes from WizIQ module for Drupal. You can run multiple classes simultaneously.
Enroll users from your Drupal website and define user roles and permissions using the built-in capabilities.
Schedule, deliver and record live sessions from your Drupal site via WizIQ module.
Get insights into learner attendance, class duration from the same platform.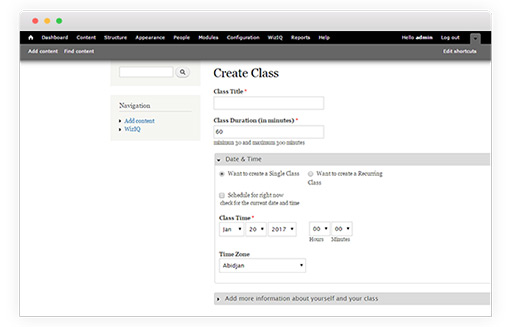 WizIQ Virtual Classroom for Drupal brings all classroom tools
WizIQ Virtual Class module for Drupal brings along all tools that you would need to deliver live instruction.
High-definition video conferencing for live instruction.
Interactive whiteboard for drawing, writing, scribbling, illustrating, collating ideas and explaining mathematical, chemical and vector equations.
Raise hand feature for participants for asking queries during a live class.
Screen sharing for sharing documents or any other media files with learners.
Breakout rooms for conducting group discussions during live sessions.
Live chat, public and private, to collaborate and communicate with students in real-time.
Built-in media player for streaming audio-visual content.
Polling for taking feedback, asking questions and checking learner understanding in real-time.
Analytics for recording attendance, class time and duration.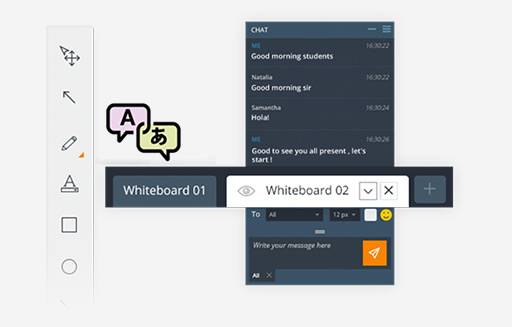 Added security for your content
Drupal's core code is known to be good to prevent common security issues. WizIQ's module for the live class provides an added layer of security for your eLearning sessions.
End-to-end encrypted video streaming to prevent theft, piracy, and illegal downloads.
Expiring URLs to prevent repetitive and unauthorized access to content.
Tokenized access based on user roles and permissions.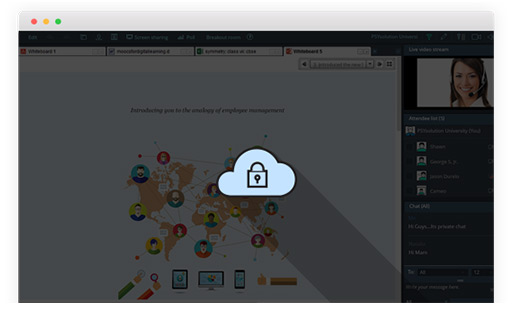 WizIQ live class module adds to the flexibility Drupal offers
Drupal is known for the flexibility of customization it offers its users. WizIQ live class module complements it.
Use the integrated live class module as Drupal webinar module and host webinars, conferences and other marketing events.
You have co-branding opportunities, as you can upload your company logo and give the live class interface a personal touch.
Choose from the available subscription-based pricing plans depending on the number of users and classrooms you want to create.
Choose the interface language from a selection of 21 languages.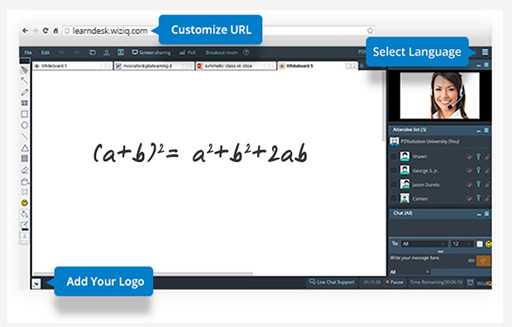 Check this two-minute video on how to create and deliver live classes
on your Drupal website using WizIQ Drupal Virtual Classroom module.
Frequently Asked Questions
What can I do with WizIQ Drupal Virtual Classroom module?
With WizIQ Drupal Virtual Classroom module, you can create, schedule and deliver live classes from your Drupal website. You would also be able to use several built-in features, like HD video conferencing, whiteboard, polls, live chat, file sharing and breakout rooms during your live class. Even if you are looking to create webinars to attract prospects or educate customers, you can do so by using WizIQ as a Drupal webinar module.
Which Drupal versions does WizIQ live class module support?
The WizIQ live class module is available for Drupal 7.0. Our team is working on Drupal 8.0 compatible version.
How to integrate WizIQ Virtual Classroom API with my Drupal site?
Start your free trial.
Fill up the form and create login ID and password.
Once you log in, you can download Drupal live class setup.
When you integrate the setup with your Drupal website, enter the secure and access keys provided on the home page of the setup.
You'll be able to see WizIQ module in the ribbon on the top as well as on the left-hand side
How to create an online course in Drupal?
A soon as you activate the WizIQ module for Drupal live class, you can start creating courses.
Go to 'WizIQ' either in the ribbon on the top or the navigation options on the left-hand side.
Click on 'Courses' and then 'Create Course' to fill required information – course name, start and end dates and description and save.
Congratulations! You've successfully created your first online course in Drupal via WizIQ.
Congratulations! You've successfully created your first online course in Drupal via WizIQ.
How to upload the course content?
Uploading content is very easy. The best part is that WizIQ content library supports all content types. To upload content:
Click on WizIQ and go to "Contents" on the drop-down menu.
Click on 'upload content' and choose the file type that you want to upload.
Choose file and go ahead.
You can also create a new folder and upload the content for a particular course.
Can I upload images or videos in the course content?
It supports all types of content, including:
Text: DOC, Docx, RTF
Excel: XLS, XLSs
PDF
Flash: SWF, FLV
PowerPoint: PPT, PPTx, PPS, PPSx
Audio: WAV, WMA, MP3
Video: MOV, WMV, MPEG, MP4
Images: JPEG, PNG, GIF
AVG
How to create and schedule an online class in Drupal?
After you've created a course, click on the ₊ sign against the course name under 'Manage Course' section. It takes you to the next page wherein you are asked to fill in the following details:
Class title
Date and time
Duration
Time zone
Click on 'Add more information about yourself and your class' and choose
attendee limit
whether or not you want to record the class
the language of instruction
Click on 'Schedule and continue' button after you've filled all the details. You can also schedule a class immediately or at any time in future.
Do users need to log in again to attend a live class on Drupal website via WizIQ API?
No need of separate login credentials. Just one set of username and password serves the purpose.
How to enroll users in a course?
Take the cursor to WizIQ module in the Drupal dashboard and click on courses.
Under 'Manage course' tab, click on 'enroll users'.
A list of your Drupal site users opens up. You can select the names and enroll them in your course. To add a new user, go to Drupal dashboard, move the cursor to 'Users' and click on 'add new'.
Assign permissions to each user depending on your requirements.
How to assign roles and permissions to users?
You can assign roles and permissions to users at the time of enrollment. Allow or restrict them to perform following activities:
Create a class
View recording
Download recording
Upload content
Can I delete/remove learners from a course?
Go to WizIQ module in the Drupal dashboard and click on courses.
Under 'Manage course' tab, click on 'Enroll users'. You'll see a list of registered users.
Select the user you want to remove and click on 'Remove'.
How can I launch a class from Drupal dashboard?
Go to courses in WizIQ module in Drupal dashboard.
Click on the number of classes of a particular course you want to teach. It takes you to all the classes created for that course.
Click on the class title to launch it.
You're directed to the next page where you can choose to launch a class or go back to the classes. Click on "Launch Class".
Click on 'continue to virtual classroom' and then 'I'm good to go' after checking the devices and settings. You are ready to teach a class online.
Can I launch multiple classes simultaneously from the same website?
Absolutely. You can opt for a pricing plan that allows you to create multiple classrooms and launch multiple concurrent sessions.
Is it possible to record live sessions?
You need to select the option 'record this class' when scheduling it. Recording starts by default once you are live. Stop, pause and resume recording at any time during the class.
Will I be able to conduct group discussions, polls during live class?
Yes, it is possible to conduct group discussions and polls during live class without having to install any extra module or tool.
For group discussions,
Click on 'breakout room' tab on the top of the live class screen.
A new window pops up asking you to create rooms.
You can create up to 10 rooms during one live session. You can also rename the breakout rooms.
Select as many attendee names from a panel on the left and move them to the selected group.
If you click on "make a lead", you can designate a selected participant as a moderator.
Once you have divided the students into groups, click on "Start breakout session"
You can then conduct group discussions.
It is possible to shuffle participants between different breakout rooms during the live session. The admin has complete control over the activities going on in breakout rooms
For conducting polls,
Click on 'poll' button on the top right.
A new Window pops up. Click on "create a poll".
Enter the question and options to create a poll. Here, you can create as many poll questions you want.
There are two options available to you here. One is to save and use it later, and the other is to save and publish to use it right away.
Where can I get class or course-related data in WizIQ Drupal Virtual Classroom module?
To access course-related data, go to the classes for a particular course in WizIQ module. From here you can find details regarding:
class time
presenter
class status
attendance
class recording view and download status