WizIQ online teaching software makes it easy for you teach online in all formats – live, blended and self-paced.
Start instantly
Start teaching online within minutes. WizIQ is ready to be used immediately. No coding required.
Live and self-paced learning
WizIQ supports live and self-paced learning, giving you the freedom to teach the way you want to.
Tests and analytics
Create and conduct pre and post-class tests and access reports to understand learners' performance.
Integrated eCommerce
Accept payments online from credit and debit cards, net banking and money wallets from within the platform.
Pay-as-you-go
Choose your subscription plan based on the usage, number of users and teachers.
Scalable
Upgrade your plan anytime to scale up your operations. Add more rooms, attendees or teachers.
Teach online and earn with WizIQ online teaching software
Education technology has opened new avenues, enabling everyone to monetize their skills. You can teach online and earn money as long as you have transferable skills. The best thing is you need not be an instructor by profession. Rather you can teach anything you're good at.
You can either teach online classes or deliver self-paced training on any subject from crafts to gardening, fashion, lifestyle, acting, music, home décor, photography, coding to languages or any subject of your interest. Even if you're a homeschooler or a teacher looking to expand horizons or an alternative income stream, moving teaching online is the best bet. While it seems to be a natural choice for teachers to make the leap to teaching online, advancements in education technology have enabled professionals, whose primary job is not teaching, to start building their online teaching business.
How to choose an online teaching platform?
There are few must-haves you should keep in mind when choosing a software for online teaching. It should:
be designed specifically for teaching and should allow you to perform all teaching operations from one place.
eliminate dependence on pesky plugins, ultimately reducing the likelihood of frustrating encounters and broken experiences.
be easy to use. Adoption shouldn't be an issue at the either end.
have a course management feature.
make scaling operations up easy and quick.
allow you to roll out your first online course within minutes.
have integrated eCommerce to allow you to teach online and earn
WizIQ offers you the fastest way to take your teaching operations online
WizIQ fulfills all these criteria and makes it easy for you to break into online instruction. The ready-to-use online teaching software has got everything at one place, and you can use it instantly without having to code anything.
Video conferencing
Built-in whiteboard
Integrated cloud storage
Live recording
Breakout room
24/7 technical support
Scalable
Media player
Polls & Surveys
Support for 2000 attendees
Built-in reporting
Public & private chat
Science and math friendly
Subscription-based plans
White-labeling
Explore how WizIQ facilitates online teaching
Move online without any technical know-how
WizIQ is an intuitive and easy-to-use software for online teaching:
Everything on the interface is self-explanatory. Simply clicking on button tells you what to do.
Everything is built-in. It takes the hassle of searching for plugins to perform certain tasks out.
Course creation is as simple as typing and uploading the documents.
It's possible to use WizIQ as soon as you register for it.
It automates reporting. Simply access the reports and get insights into content, pedagogy and performances.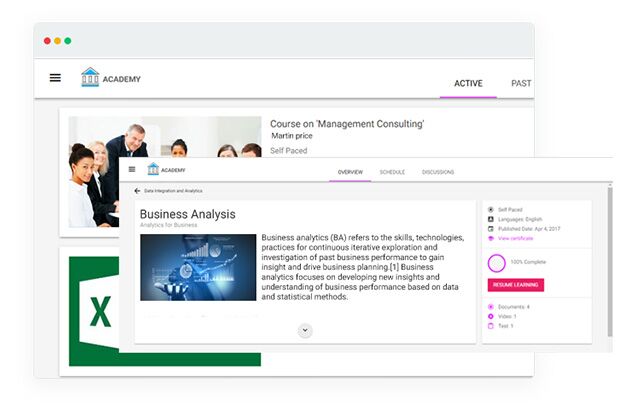 Teach any subject with our Online Teaching Software
Teach anything you know or love in any language. It's super easy to create all types of courses with different learning outcomes.
Teach technical or non-technical subjects depending upon your expertise.
You can teach inspirational, motivational or anything that you think you excel at.
You can teach technical subjects like coding, math, chemistry or photography.
Teach a language course to students from across the world.
Teach informative courses that can make day-to-day life of your audiences easy.
Teach any format including blended learning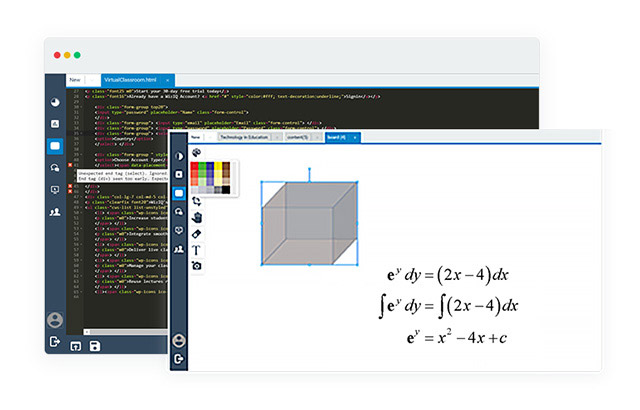 Create online courses and start teaching
Utilize the default course design structure to create online courses and start teaching instantly. No skills required.
Import, upload or embed content to create your course. WizIQ supports all content types – texts, graphics, animations, audio, and video.
Schedule and launch your live class according to your or your learners' time zone.
Teach online, face-to-face in real-time using live audio-visual communication.
Use interactive whiteboards, screen sharing, HD secure video streaming, text chatting and polling for interaction.
Encourage peer-to-peer interaction with breakout rooms for small group discussions and exercises.
Create self-paced video courses for a passive revenue stream.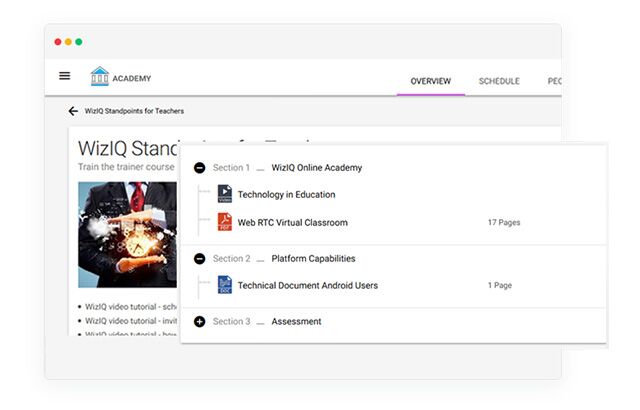 Perform all front and back-end operations from one place
WizIQ's online teaching platform lets you perform all back-end operations.
Create online courseware with one-time or recurring classes.
Manage users, assign roles and permissions and create hierarchies.
Schedule, launch and record classes from within the platform.
Give learners tests and assignments before, during and after the class to check their understanding at various stages.
Gain insights into learner engagement using reporting and analytics feature.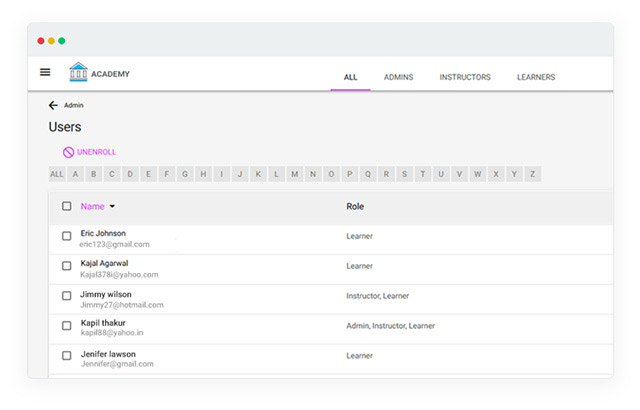 Use WizIQ in multiple ways
WizIQ is a dedicated software for online teaching. However, it has a wider scope. You can use it for:
hosting webinars and live sessions from industry experts
hold online conferences with other teachers
organize collaborative projects for geographically dispersed audience.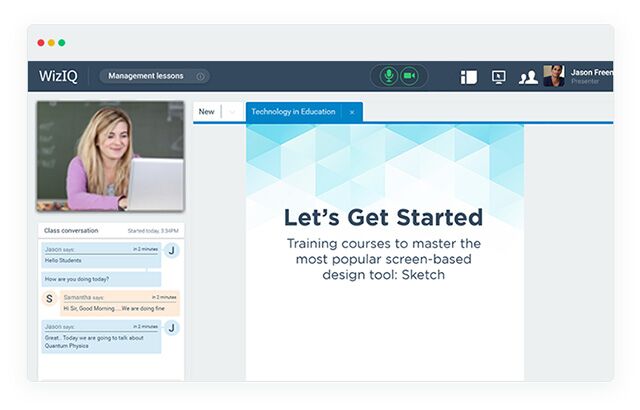 Strengthen your personal brand
The biggest benefit of using WizIQ software for online teaching is that it allows you to build your personal brand, unlike other online teaching tools.
Opt for white-labeling and use your brand name and logo on the interface.
Integrate WizIQ with your existing website or blog and use your domain name.
The platform is completely yours once you purchase the subscription. No hassles of cross promotion or advertisements.
Teach online and earn by creating your brand.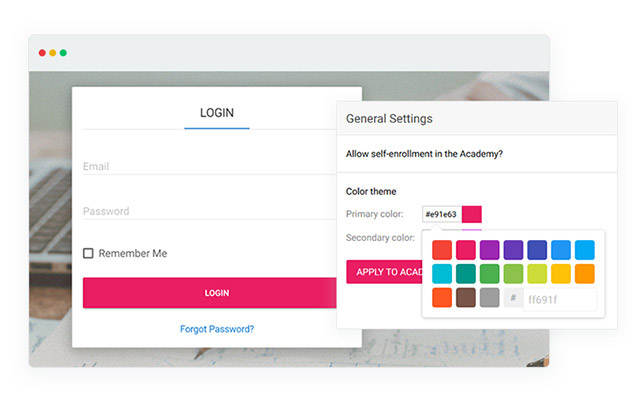 Maximize the return with WizIQ
WizIQ offers you complete freedom to operate your business your way.
Start with the basic plan and scale up as and when your user base grows.
Enjoy complete freedom on the course pricing. WizIQ doesn't confine you in any way.
Your earnings remain with you as WizIQ doesn't claim any commission other than the cost of the plan you have chosen.
Use WizIQ the way you like it. You can video conference, teach, conduct discussions, hold seminars and meetings at no extra cost.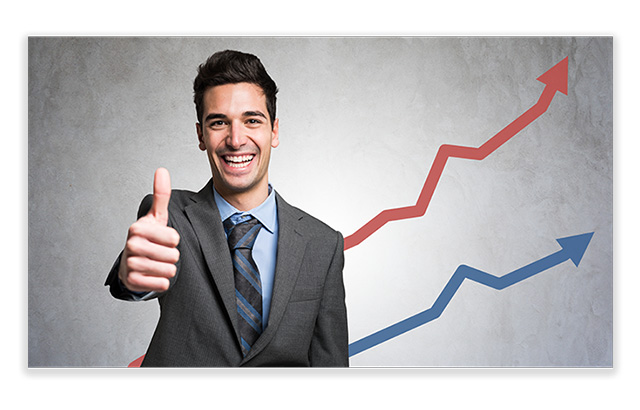 Frequently Asked Questions
I'm used to face-to-face teaching. Isn't online teaching impersonal?
WizIQ makes you feel as if you're teaching in a physical classroom. You can teach live face-to-face in real time, aiding your session with interactive whiteboards, screen sharing, video and text chatting and polling tools. Or you can float recorded video tutorials to generate a passive income.
Computers intimidate me. How do I start?
The best thing about WizIQ is that you don't need any hardware or software skills for being able to deliver classes through it. Plus, the design is intuitive and everything is in front of your eyes. You don't need to search for anything. With absolute ease, you can create online courses, store and share content and collect credit card and PayPal payments from students worldwide. Also, live technical support is available 24/7.
I like using various media to teach my subject in the classroom. What will I do online?
Store varied file types on the cloud and access them freely. WizIQ supports all content format – including documents, presentations, images, videos, audio recordings, and spreadsheets – of sizes up to 1 GB. All your educational content can be stored in the content library and accessed/shared securely whenever you need it.
How can I assess and monitor online students?
It's easy to track student progress easily with our online assessment and reporting tools. You can upload the tests or create them online, give tests to your students in real-time using polling tool and check student participation by generating attendance and content download reports.
I've heard that teaching online is expensive. Is it?
WizIQ offers various pricing plans to meet a wide spectrum of teaching budgets. You can choose any of our subscription-based plans depending upon your user-base. Scaling up is easy and quick.
I impact the lives of many students every year. Will it be the same online?
There's no limit to how many students you can teach with WizIQ. You can teach students from around the world and can facilitate both synchronous and asynchronous activities.
I already have my own website. How can I use WizIQ?
WizIQ has plug-ins available for Moodle, eFront, Joomla, Wordpress and Drupal. It is easy to integrate WizIQ with your existing course or personal website, helping you offer a more comprehensive learning experience.
What if I need to be away from my primary computer?
Our mobile apps let you teach from anywhere. You can teach using the WizIQ apps for Android and iOS, with tech-savvy tools and features that add modern relevance and appeal to your online class. Your students can access class anywhere, anytime, and on any device using the WizIQ apps.
What if I need help?
Our 24/7 support will help you deal with every difficulty. WizIQ's dedicated team of technical experts is here to answer your questions through e-mail, phone, or online chat– all day, every day.