WizIQ helps you become an online tutor with minimum possible resources.
Ready-to-use
Start tutoring online as soon as you register. It takes just a few minutes.
No add-ons required
Everything required for live online teaching is built-in. No hardware or plugins required.
Built-in whiteboard
The classroom staple – whiteboard is already there. Replicate offline teaching.
Easy integration
Integrate WizIQ with your website to tutor from your website.
Test and assessment
Create and conduct different types of tests and test student knowledge.
Collect payment
Accept payment online via net banking, credit and debit cards.
Become an online tutor
From being a subject matter expert to offering supplementary online classes or homework help to students, teaching summer classes online to getting into the serious business of helping students prepare for competitive exams such as GRE, SAT, ISAT, and MCAT, online tutoring offers you a myriad of career options.
Why tutor online?
Online tutoring has become a very lucrative career option these days. Tutors come into picture when students need to supplement their school education, need homework help, prepare for competitive exams, repeat selective concepts or reinforce their classroom learning. And to save on travel and time, they're relying on online tutoring services. Tutoring is booming, and students all over the world rely on it in some or other way.
How to become a tutor online?
There are two routes into online tutoring.
One is joining a tutoring company, and the other is starting your own institute for test prep and tutoring online. Former seems to be easier and more structured but is less lucrative. The reason being, a big part of your earning goes as commission to the tutoring site. Also, you need to have prior tutoring experience in your kitty to apply for a position. Apart from this, you are expected to work a certain number of hours.
Starting your own online tutoring business might seem difficult, but it works to your advantage. How? You're your own boss and can teach any number of hours. You can go online with your existing student-base and gradually work towards expanding it. Whether you're a stay-at-home mom looking for a flexible work from home opportunity or an offline tutor wanting to expand online or a professional searching for ways and means for an additional revenue stream, you can take the plunge. The biggest benefit is the earnings are entirely yours. Plus, you can focus on personal branding.
What is required to build your online tutoring business?
In addition to a computer and high-speed internet connection, you'd need an online tutoring platform to deliver learning in real-time. Video conferencing tools such as Skype may seem like a convenient option, but the truth is they are not suitable for online instruction. Tutoring is beyond just face-to-face conferencing and requires a range of other functions such as a whiteboard, test creator, and breakout room. Also, a tutoring software must make it easy to teach subjects like science, math, and coding.
Therefore, you need an online platform that supports all these requirements. At the same time, you'd want something which is easy-to-use, affordable and doesn't require any IT infrastructure. WizIQ fits all these criteria and can help you move online within minutes. Register, schedule a live class, and you're good to go. No prerequisites. No, IT infra is needed. No plugins required. Everything you need to tutor online is available.
WizIQ features for holistic online tutoring and learning experiences:
Live video conferencing
Whiteboard
Media player
Live recording
Breakout room
Polls and surveys
Public and private chat
Reporting
Cloud storage
24/7 technical support
Subscription-based plans
Scalable
Support for 2000 attendees
Online test creator
WizIQ provides you with everything to take your tutoring operations online.
Move online without IT infrastructure and technical expertise
Take tutoring online with minimum IT infrastructure and technical know-how.
Simply register for WizIQ and get started immediately.
No IT infrastructure other than a device and internet connection is required to set up your online tutoring business.
No IT expertise required to install and implement the software for live tutoring.
Integrated eLearning content storage makes content available anytime anywhere quickly.
Native mLearning apps for Android and iOS available.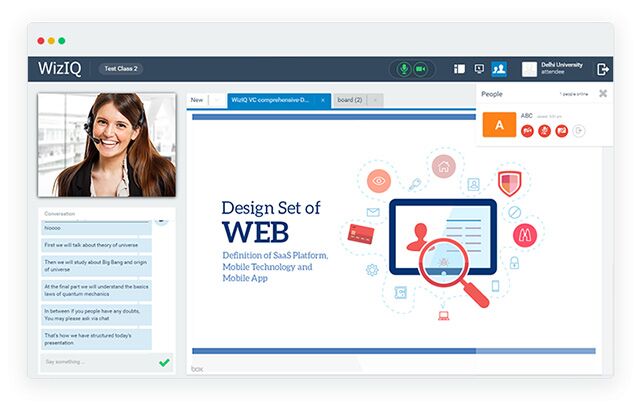 Offer different types of tutoring from one platform
Deliver personalized tutoring catering to different requirements of your learners from one single platform.
Deliver specialty subject tutoring to school-goers looking for extra help in specific subjects.
Offer basic homework assistance or summer classes.
Deliver test prep services to students preparing for competitive exams such as SAT, GRE, GMAT, MCAT, and LSAT.
Deliver supplementary tutoring to help students reinforce the learning they acquired in their school.
Provide professional development programs helping individuals enhance their knowledge and skills for a greater career success.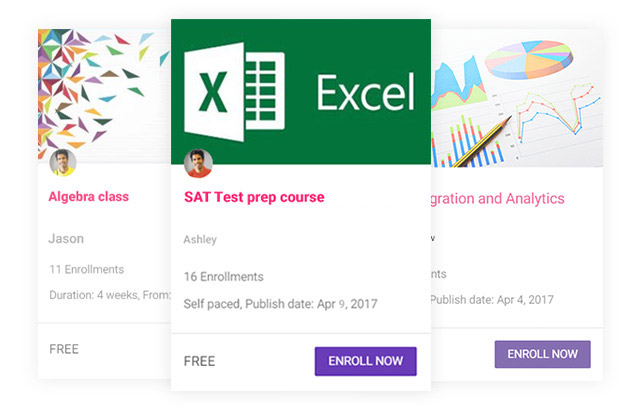 Support different tutoring styles from a single platform
Cater to different learning preferences of your students from a single platform. WizIQ supports different tutoring styles.
Deliver one-to-one tutoring and teach an individual student at a time.
Conduct one-to-many tutoring sessions and teach as many students at a time.
Teach many-to-many classes as WizIQ allows you to run multiple classes simultaneously.
Conduct private tutoring classes by sending an invitation to a selective group of students.
Offer public demo classes making enrollments open for everyone.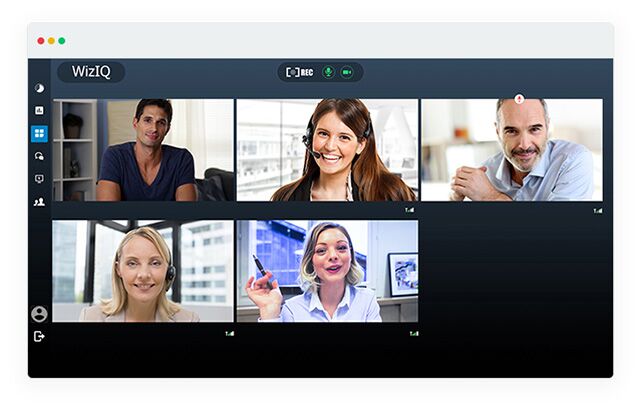 Make your sessions more engaging
when you opt for WizIQ, you get everything together in one package.
Make your class more interactive with multi-way real-time audio-video communication.
Use multiple whiteboards to explain, illustrate, brainstorm and put together ideas and concepts.
Use live chat (public and private) to interact with students and seek feedback.
Transfer writing and audio-video controls to students to make a session more interactive.
Give tests and quizzes and conduct polls to check student understanding at various intervals.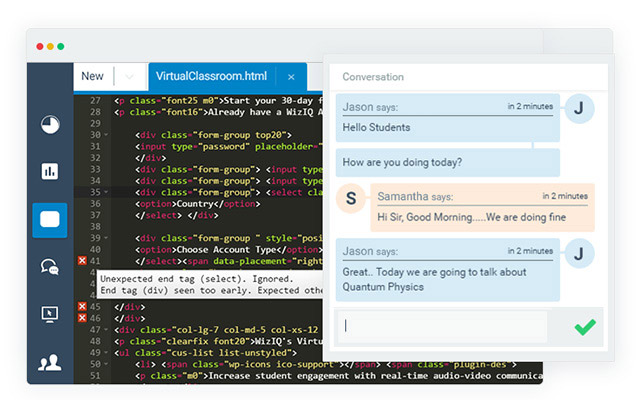 Perform all back-end operations
No extra plug-in required to perform back-end and business-related operations. One platform does it all for you.
Create online courses and upload content in any format – text, presentation, image, audio-video.
Schedule and launch classes from within the Virtual Classroom software.
Add, remove, enroll or group students as per your requirements.
Record live tutoring sessions and upload in the content library after the session is over.
Generate reports and measure the performance of learners and content and tweak your courses and tutoring style accordingly.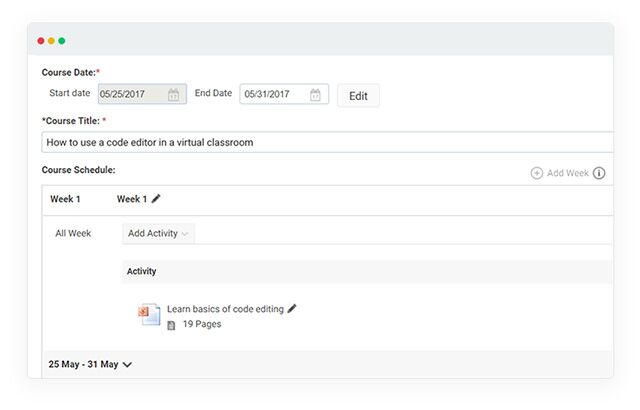 Collaborate in multiple ways from one platform
WizIQ is a multi-purpose platform, allowing you to perform several different functions without any extra plugins.
Deliver live virtual classes on any subject you're good at. The platform is fit for teaching math science and programming subjects.
Hold real-time office hours and be available to your students via audio-video and text chat features.
Host webinars and deliver synchronous MOOCs from the same platform.
Hold online conferences with tutors from around the world sharing and discussing the latest online teaching techniques.
Float self-paced video tutorials for passive revenue generation.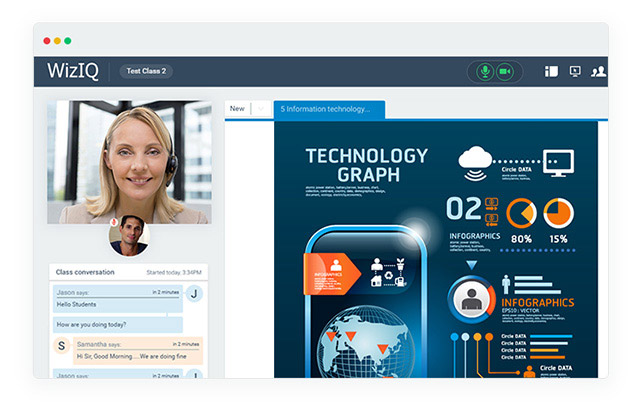 Integrate WizIQ Virtual Classroom with your existing system
If you already have a system in place and are looking for a software to deliver live classes from it, WizIQ Virtual Classroom integrates seamlessly.
Incorporate WizIQ Virtual Classroom with your website on WordPress, Drupal, and Joomla.
WizIQ Virtual Classroom works well with your existing learning management systems, both paid and open source, including Blackboard Learn, Totara, Canvas, Sakai, Moodle, Edmodo, and eFront.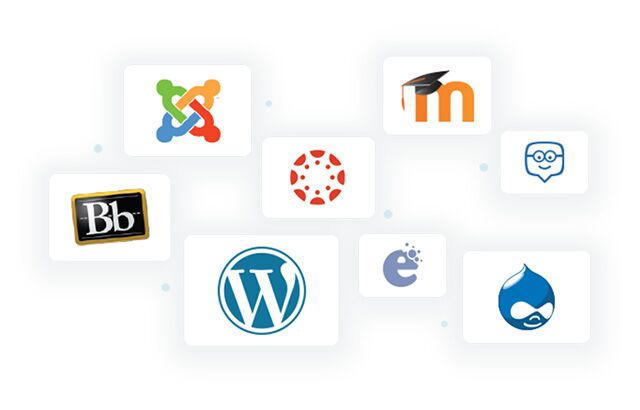 Make WizIQ your own
Opt for white-labeling to make WizIQ your own and deliver branded tutoring sessions.
Use your personal domain name and create a recognition among students.
Use your logo and establish branded online tutoring services.
The class URL can also be customized if required.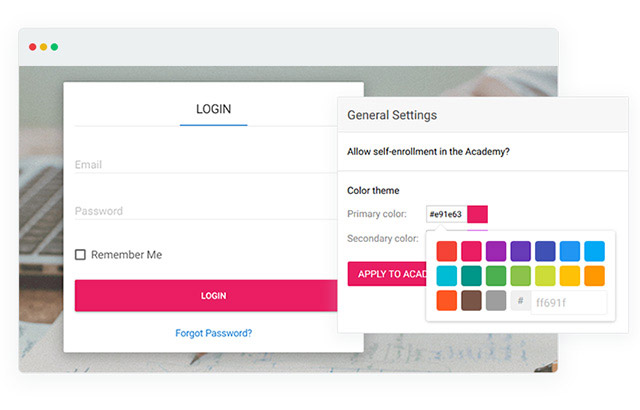 Frequently Asked Questions
Why become an online tutor in the first place?
Online tutoring is a convenient and lucrative option to increase your earnings. If you're already employed, you can utilize your after-work time to earn extra. If you're a retired professional, online tutoring gives you a way to maintain a steady flow of income, supporting your living standard. For university students, tutoring online might be a better paying gig than working in a restaurant. It also keeps your thinking skills intact. For offline tutors, moving online is just like expanding your business beyond a certain geography.
I have no teaching experience. Is it possible for me get into online tutoring?
If you have the slightest inclination towards teaching and proficiency in any subject, you are good to go irrespective of whether you have taught earlier or not. Ask yourself these questions:
Do you have a college degree in any subject? This alone makes you eligible to get started.
Do you have any special talent or do you excel in a subject you think you can teach others? You can consider tutoring without having a degree.
Are you fluent in any language and have a thorough understanding of technicalities involved? You can become a language instructor.
How many hours a day or a week do I need to work?
Totally up to you. It's your business, and you're your own boss. You can put in as many or fewer hours as you want. It's up to you to decide whether it's a temporary gig for you or an opportunity to build a long-term career. You're the best person to decide.
What equipment is needed to become a tutor online?
You need a desktop or laptop with high-speed internet connection. Also, the technology you use to deliver learning online plays a crucial role in the success of your business. As said earlier, a mere video conferencing tool doesn't suffice. It's important to get the technology right before you get to the market. WizIQ incorporates everything needed to deliver a great online learning experience.
Here's a detailed explanation on how Virtual Classroom is different from web conferencing and how the former is a better choice for teaching online.
Technology intimidates me. How can I get started?
The USP of WizIQ is its ease-of-use. If you can operate a computer, you'd be able to use WizIQ as well. You don't require any technical know-how to use it for learning delivery. Nor do you need any IT infrastructure or plugins to get started. It's cloud-based. You can simply register and start using.
Does it really pay to become a tutor online?
It surely does. When you tutor online, you run a business right from your home. There are no hassles of commuting and reaching the venue. You're free to teach what you're good at and at the time convenient to you. Your career is in your control. You're not tied up to any schedule. You can teach even on-the-go. Also, the operating cost reduces and your gross earnings are almost equivalent to your net earnings.
See what our customers have to say about us
I run my course all year round, and summer happens at different times of the year, depending on which part of the planet you inhabit. In June, I use my WizIQ course link to interesting out-of-school American teachers and colleagues in sitting in on my lectures. Depending on where you are, it's always good to think about scheduling opportunities for those who have a bit of seasonal "spare" time.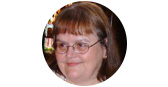 – Dr. Nancy Zingrone,
Psychology Teacher
Meeting in the WizIQ online classroom feels like meeting in person, with a crucial benefit: class recordings. A student who wants to remember how I explained a particular concept could access the recording of our tutoring session to watch me explain it again, on his or her schedule, as many times as necessary. The online classroom affords the students more mobility as well…and I benefit from the same degree of mobility.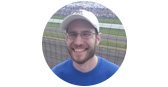 – Greg Stanton,
Founder of Higher Math Help
It's been a privilege for me to work with Jason R. Levine and Dr. Nellie Deutsch in bringing together some of the most passionate, creative, and talented teachers to share teaching ideas with our global online communities. WizIQ has given us the technology and community-building resources to make a big difference and allow us to explore new horizons in education.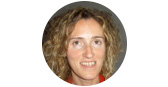 – Sylvia Guinan,
Online Teacher and MOOC Moderator
The live online classes help the teachers I work with around the globe connect with our students in real time for authentic social learning activities.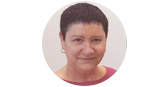 – Dr. Nellie Deutsch,
Online Educator
I taught in a classroom for more than ten years. While I loved teaching, I missed my daughter and wanted more time to be with her. When I discovered WizIQ, a whole world of teaching possibilities opened up. Though I had very little experience with technology, I created a small business, organizing and running courses for home-schooled children. Now I can teach students about all kinds of topics that interest me, right from home. I love it, and the technology is so easy-to-use!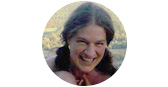 – Theresa Heary,
Homeschool Teacher
WizIQ's multilingual interface allows me to teach women who only speak Russian and can only read the Cyrillic Alphabet. WizIQ is specifically created with user-ease in mind. Even the technologically challenged can run classes on WizIQ. My students can attend classes by simply clicking on a link! WizIQ works on any browser with any device.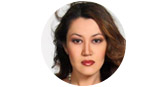 – Alla Folsom,
Online Trainer and Owner of Budu-koroleva.ru