Moodle Virtual Classroom Plugin to Deliver Live Classes
Deliver engaging moodle live classes and record them – all within your website using Moodle Virtual Classroom plugin by WizIQ
WizIQ Moodle Virtual Classroom Plugin lets you collaborate in real-time for online delivery of classes, training sessions and web conferences
Single sign-on
Log-in only once to access Virtual Classroom from your Moodle LMS
HD video conferencing
Use the 5-way audio-video feature within the Virtual Classroom
Schedule and Record Live class
Schedule and record live classes immediately after setting up the plugin.
Interactive Online Whiteboard
Enjoy Whiteboard tools for best Moodle online classroom experience
Easy administration
Add content, access class attendance and much more
24×7 customer care
Get round-the-clock support for any queries
What is moodle virtual classroom plugin?
A virtual classroom plugin, also known as a live class plugin, when incorporated into the Moodle platform, enhances Moodle's functionality. It enables instructors to schedule and deliver live online classes. This web based module is equipped with real-time collaboration tools like – whiteboard, live chat, code editor, poll and more. Instructor can also use it as a webinar plugin to conduct webinars for larger audiences.
How does a live class plugin enhance Moodle's functionality?
Moodle as a platform does not have an integrated live class functionality which limits interactions between the instructor and learner. With a Moodle live class plugin, the user will have access to video-based communication. The Moodle live class plugin
Facilitates interaction between instructor and learner
Enhances learner motivation for completing online courses
Promotes dialogue among peers
Mimics real-world learning better than self-paced courses
Benefits of using a Moodle Live Classroom Plugin?
This plugin is also popularly used as a live streaming plugin to broadcast live sessions over the internet from your Moodle LMS –
Reduces related costs for both instructor and learner
Increases flexibility to connect any time, from any where
Reduces course drop-out rates by enabling live interaction
Motivates learner and makes the class interactive and impactful
Who can benefit from the WizIQ Moodle Virtual Classroom Plugin?
Our clients are corporate houses, higher education institutes, test prep and tutoring academies, and vocational training institutions. Corporates use the WizIQ Moodle live class plugin for conducting training sessions, conferences, online face-to-face interactions with remotely located employees. Educators have been using this module to deliver live classes at lower costs and reach out to a broader learner base.
Why should you select the WizIQ Moodle Live Class Plugin?
The Moodle live streaming plugin integrates the WizIQ Online Classroom to the Moodle platform. All of the WizIQ online classroom features are available to the instructor who uses the plugin on Moodle. Additionally, editing and managing of classes are also possible using this plugin. The Moodle live class plugin can be installed in as less as 15 minutes. The instructor/trainer can launch a live class immediately after the set-up is complete.
5-way audio-video layout with HD feed
Advanced interactive Whiteboard
Single sign-on
24×7 customer care
Screen sharing and live-chat feature
Secure live streaming
Server-side recording
Easy administration
Polls and surveys
Class reports
Participation of up to 300 attendees per session
Support for Moodle versions 1.9 to 3.3
What do you get with WizIQ Moodle virtual classroom plugin?
Employ Virtual Classroom features within Moodle
Get all the features of WizIQ Virtual Classroom within your Moodle LMS.
Enjoy high definition (HD) audio-video sessions
Annotate, illustrate, and draw for an engaging lesson on the Online Whiteboard
Enable chat for lively interaction with students during class
Use Screen sharing and class recordings features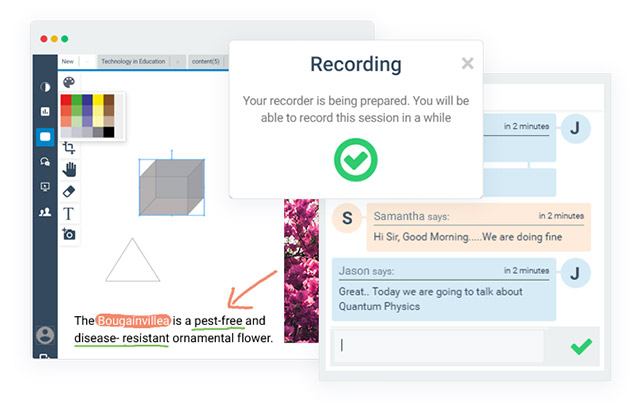 Manage and track your live sessions from your Moodle LMS
Schedule and manage classes, upload content, and view recordings from within the Moodle LMS.
Directly edit WizIQ classes and content from within Moodle LMS
Use the content library to upload your content while teaching
Track class attendance and monitor students log in and log out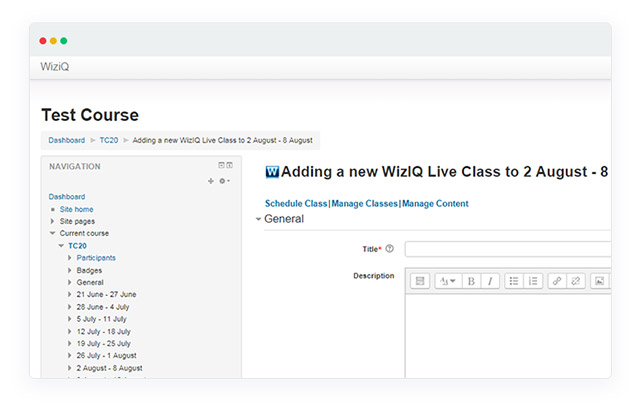 Operate from your Moodle LMS with single sign-on
Use the single sign-on feature which gives users direct access to the Virtual Classroom on Moodle. This feature helps
Save effort and time as no separate accounts are required to use the Virtual Classroom plugin
Access Virtual Classroom without any additional authentication
Operate the Virtual Classroom without special training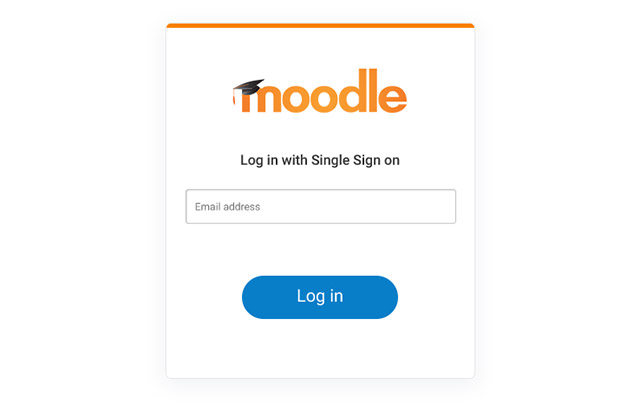 Conduct uninterrupted live sessions
Install the WizIQ Moodle Virtual Classroom plugin to carry out uninterrupted live classes online. This technology
Ensures 24×7 access to the virtual class powered by multiple data centers
Provides for in-depth 24×7 monitoring
Runs on one of the most trusted cloud services, used by 90% of Fortune 500 companies – Microsoft Azure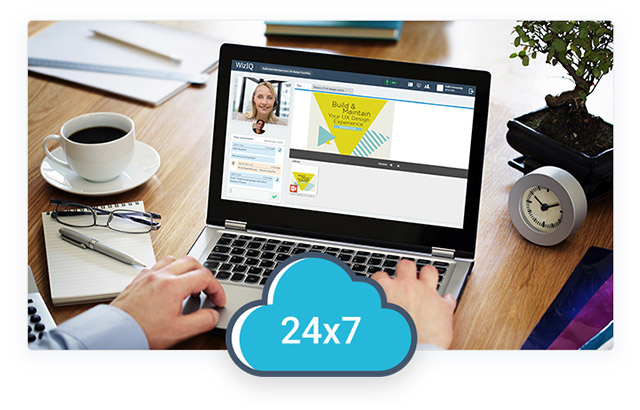 Frequently asked questions
Which Moodle versions are supported?
WizIQ Virtual Classroom plugin is available for Moodle 3.3, Moodle 3.2, Moodle 3.1, Moodle 3.0, Moodle 2.9, Moodle 2.8, Moodle 2.7, Moodle 2.6, Moodle 2.5, Moodle 2.4, Moodle 2.3, Moodle 2.2, Moodle 2.1, Moodle 2.0 and Moodle 1.9.
Can I use WizIQ Virtual Classroom with my Moodle website?
Yes, the WizIQ Virtual Classroom is an online teaching tool you can integrate with your Moodle website and offer real-time collaboration and two-way communication, creating new capabilities for synchronous learning – all from within your Moodle online classroom.
If I purchase a plan of 5 teacher accounts with up to 10 attendee limit, does this mean I can run 5 classes with 10 attendees in each class and any number of times?
Yes, this plans means that you can conduct 5 simultaneous classes with 5 teachers and 10 attendees in each class. You can take an unlimited number of classes; however, only 5 classes can be conducted at one given time, writing their guest name! Your students will not pay any fees to WizIQ.
I have downloaded the WizIQ Virtual Classroom plugin for Moodle 1.9. Can I also download the plugin for all Moodle 2.x versions? Are there any extra charges?
No, there are no extra charges for downloading plugins for various Moodle versions.
If I purchase Moodle package can I still use WizIQ as an alternate interface?
Yes, you can use WizIQ as an alternate interface at no extra cost. From within WizIQ, you can:
Create & deliver live and self-paced courses using the comprehensive teaching system
Add and manage teacher accounts
Schedule classes for your teachers
Allow your teachers to schedule classes on their own
Conduct classes in the Virtual Classroom
Get attendance report
View and download class recordings
WizIQ has complete solutions to help you establish your teaching website