Stream your live sessions or events with WizIQ video streaming solution
Deliver a seamless video viewing experience with adaptive bitrates
HD video streaming
Ensure high-definition video playback on any device – desktop, laptop, tablets and smartphones.
Adaptive streaming
Provide uninterrupted live video watching experience on low internet bandwidths with multi-bitrate streaming.
Encrypted streaming
Prevent illegal downloads with end-to-end video encryption and tokenized access.
Video streaming from cloud
Play videos directly on the cloud from your content library. No need for downloads.
Controlled video access
Have a complete control over your content as video URLs can be coded to expire after a pre-determined time spell.
Video content analytics
Access detailed information on number of video views, play rate and learner engagement.
Get a secure video streaming solution to deliver an engaging learning experience
Videos have a transformative impact on teaching and learning – in all settings including live, self-paced, and blended. They engage viewers, facilitate thinking, and make learning stick. This results in reduced learner abandonment, increased repeat viewers, and a greater return on investment. But it is possible only if the videos play without interruptions. Buffering and poor video quality lead to a low-grade viewer experience, which, of course, is not good for the health of your business. The quality of online video streaming impacts the learner behavior. This means your video streaming solution must be best in class, providing high-quality, fast, uninterrupted and secure video content delivery.
WizIQ provides seamless viewer experience by streaming videos in a way that adapts to different internet bandwidths. We bring you the best video streaming services, helping you make a great impact on your learners during online course delivery. In addition, you enjoy complete control over your audio-visual content assets in terms of storage, distribution, and privacy.
WizIQ video streaming solution at a glance:
Integrated storage
Live stream to any screen
Multi-bitrate streaming
Support for high-definition videos
Control video access and sharing
Encrypted video streaming
Expiring/signed video URL
Video content analytics
Broadcast end-to-end encrypted live classes with WizIQ video streaming platform.
Store all your videos at one place
WizIQ's video streaming solution supports all formats of videos, allowing you to upload video files as large as 1 GB on the cloud. So, transfer your videos from different platforms, store at one place and
Categorize videos in folders, depending on your requirements
Ensure the privacy and access levels by making them public or private and defining roles and permissions
Save time and hassle of finding and playing videos from different platforms during the live online classroom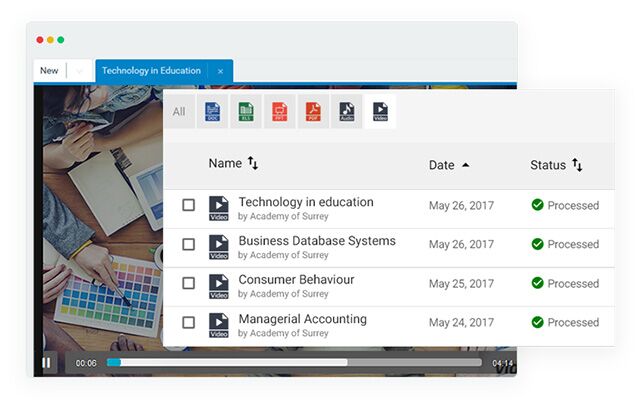 Ensure seamless online video streaming
WizIQ's all-in-one video streaming solution uses Azure's infrastructure to ensure the fastest and most reliable online video content delivery.
Stream high-definition videos seamlessly without buffering or interruptions
Broadcast videos to anyone across the globe at any time
Ensure excellent end-user experience by sharing videos that easily adapt to available internet bandwidths.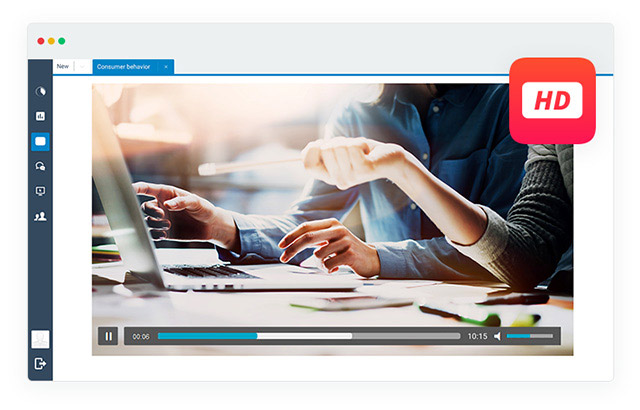 Deliver video content the way you like it
WizIQ gives you complete control over your video, allowing you to deliver it the way you want to.
Stream videos directly from the cloud during your live sessions
Allow self-paced learners to download encrypted video files with an expiry time
Use videos for blended learning as learners can watch videos at home and attend sessions for problem-solving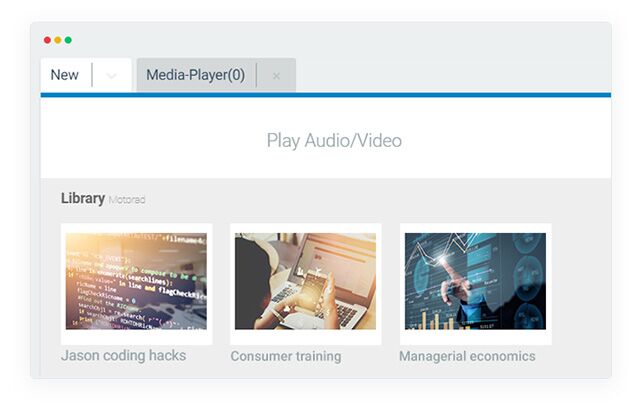 Safeguard your video content
WizIQ uses a protocol to encrypt your video files in real-time when data gets transferred for secure video streaming.
Save videos from illegal downloads, theft, and piracy with total data encryption
Prevent unauthorized video streaming, and repetitive access and download as the video URLs are coded to expire after a pre-decided timeline
Allow tokenized access to your video content. The files are shared or denied access based on user permissions and account settings